Various guidelines set out by WHO emphasizes the use of face masks to minimize contracting or spreading the COVID-19 virus. To reduce community spread, wearing a face mask in public is advised. As states reopen, face masks in public settings will be more common. Both patrons and employees of the businesses they visit will be wearing a protective face covering. This change in how we conduct our daily lives has given rise to branded custom face masks.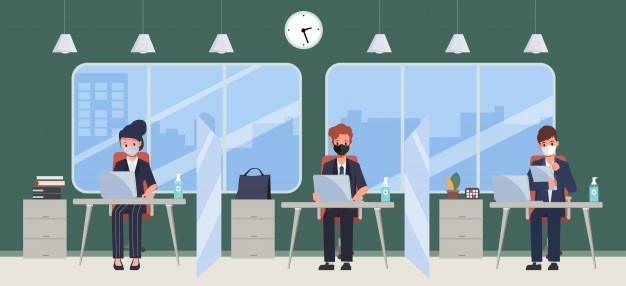 Wearing face masks is only one of many measures that can be taken to minimize the spread of COVID-19. The use of gloves, hand washing, and social distancing work as well. In the case of Face mask, a business can use branding while protecting both employees and patrons.
With over 7.5 million confirmed cases of COVID-19 by mid-June, the virus has shaken every part of the world. Many experts agree that COVID-19 and face masks may be part of everyday life for the next year or longer. With this outlook, businesses are now looking to purchase custom face masks in bulk at wholesale prices. Not only for protecting their employees but for the branding benefits as well.
Reusable Logo Face Masks Emerge During Covid-19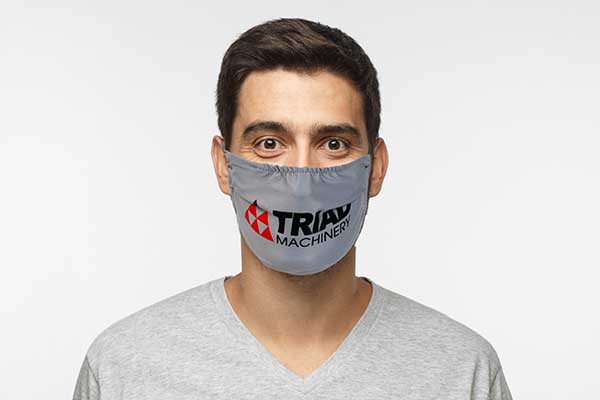 With medical masks running out almost instantly, many turned towards non-medical masks that could be made easily at home and by clothing companies. As the CDC and WHO began suggesting reusable masks offered some protection, the popularity of non-medical face masks increased. Customized masks were the obvious next step, and some entities even saw the opportunity for selling branded face mask
Brands like Hello Kitty, Madewell, Banana Republic, and J. Crew, began selling branded face masks with logos and graphics. Brands like Nike, Gap, and Hershey started making masks for healthcare workers, allowing them to attached sentimental value to their brand. There has been a rapid growth of company-branded face mask with the expanding mask-wearing culture throughout the world. Now you can buy masks that are fashionable and match the outfit you may be wearing that day.
Demand Of Company Branded Face Masks
As experts continue to encourage the public to wear face masks, demand for custom face masks is rising day by day, especially in the corporate sector.
Companies are producing branded face masks in a wide range of signature patterns and colors custom designed for client companies, which has led them to sell out in record time. Businesses around the world are heavily investing in custom logo face mask; and looking for wholesale sourcing for custom face mask
From local governments to universities and financial industry companies, large organizations are buying custom face masks in bulk.
For many, using custom face masks may seem like an innocuous idea. However, these branded products are a primary tool for an advertisement for many business ventures while serving its key purpose of being protective equipment.
Advantages Of Using Custom Face Masks For A Company
It's safe to say that the first and foremost advantage for any business using custom branded face masks is their promotion of a healthier lifestyle that protects from spreading COVID-19. Still, many side benefits make wearing a branded face mask even more attractive.
Employee Safety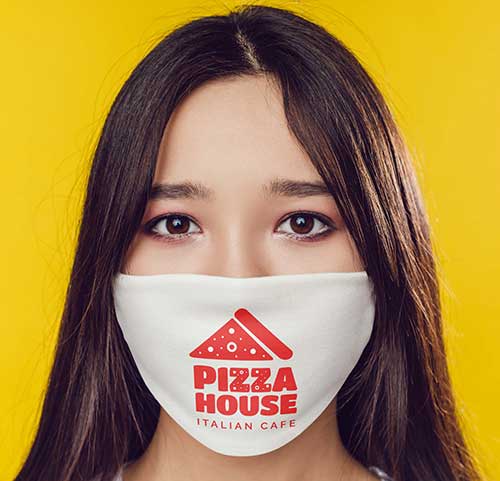 Employee Safety
As states reopen, businesses and local governments look to avoid another shutdown. So the most obvious solution to safely minimize spread is using face masks and social distancing when possible. Wearing face masks in the workplace is becoming a common practice. Businesses are investing in different types of face masks for protecting the safety of employees and customers in the workplace.
Send the Right Message To The Public
Apart from being a safety measure, businesses need to send the right message when the world is fighting the global pandemic. Therefore, most banks in the USA are investing in custom logo face masks for their employees to let the public know they are taking the health and safety of their staff and clients.
Not only banks but schools, colleges, universities, and even government departments are investing in custom logo face masks. Glasgow University in Scotland recently announced the release of a range of face masks displaying its logo. According to the university spokesman, these custom face masks will be free for students and staff to promote the use of protective masks.
A Tool For Business Marketing
A custom logo face mask offers incredible marketing opportunities to a business as the wearer represents its company wherever he goes or to whoever he meets during the time of the wear.
Let's take the example of the National Hockey League (NHL) that sells licensed cloth face masks, bearing all 31 teams logos. Now, the money generated will go to Food Banks Canada COVID-19 Response Fund and Feeding America. What will be bankable for the company is the advertising value of these company-branded face masks? It is because the wearer will be nothing short of a walking billboard for the company making the employees a real marketing asset.
A company advertising budget can benefit significantly from introducing custom face masks. That is why custom face mask wholesale is in demand on a global level.
Combine Branding, Comfort, And Safety
Custom face masks offer branding opportunities safely and comfortably. There is a shortage of medical PPE; moreover, many people experience skin issues with these medical face masks, including folliculitis, acne, rashes, dermatitis, and dryness.
On the other hand, custom face masks made of cloth address the shortage of PPE in the market but also help resolve skin irritation issues associated with certain masks. It is because cloth offers skin-friendly properties, and any company investing in custom face masks can ensure that it orders a batch that is comfortable for its staff members to wear.
Custom Face Masks Are More Than Branding Tool
Though it is true that as soon as the CDC guidelines for masks changed making cloth masks suitable to wear for Covid-19 protection, many businesses stepped up and saw this as a golden opportunity to make their business shine during such times of financial constraint.
As a result, many brands used this opportunity as a branding tool turning their employees into walking billboards with company logo face masks or by selling branded face masks to make profits.
However, many companies are using custom face masks for the greater good as companies like Disney are donating a portion of sales to charitable causes.
Final Thoughts
Companies branded face masks are proving to be highly beneficial for businesses around the world. From the safety of employees to the added benefit of branding, these custom face masks serve the purpose and more.
No wonder the sale of custom face masks at the wholesale level is on the rise as educational institutes to government departments and small to large businesses are investing in company-branded face masks. They are surely a need for the current times.