Spirit flags are a great way to show your school spirit. Whether you're cheering on your team at a game or flying them at a pep rally, these school flags are a fun and easy way to show your school pride. Big Tex Banners and Flags offers a wide range of Spirit Flags for football. Whether you call them battle flags, letter flags, captains flags, or field runner flags, these cheer flags are a must for pep rallies and sporting events.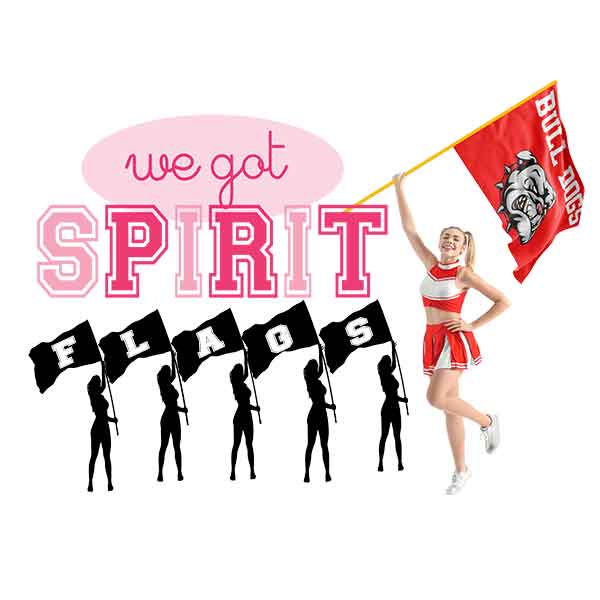 Custom Spirit Flags
Big Tex Banners can customize school spirit flags with your schools logo or mascot and colors. Choose grommets or a pole pocket for your custom flag. Additionally, choose from our selection of poles to compliment your spirit flag.
Custom sizes and shapes available.
Single or Double Sided Flags
Color Matching possible with Pantone color system.
Wide Variety of sizes including really large Runner Flags like 8ft x12ft and 10ft x15ft
Choose between knitted polyester or Shiny Poly Satin for a durable Cheer or Battle Flag that will last.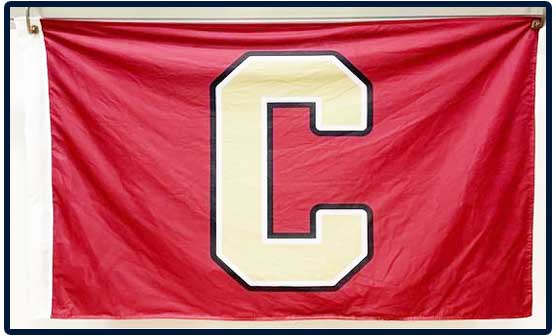 ---
Wholesale Spirit Flag Pricing
Big Tex Banners and Flags offers wholesale discounts for bulk purchases. Bulk pricing can apply to multiple cheer flag designs, you can still receive quantity discounts when the design is different.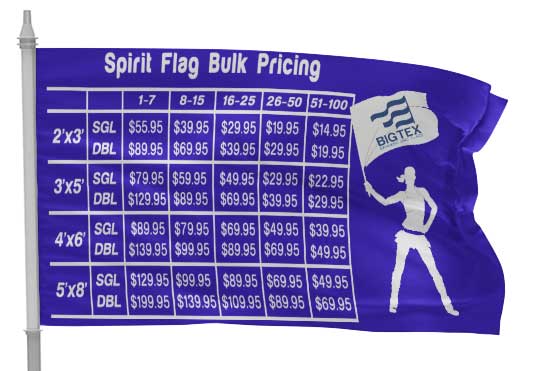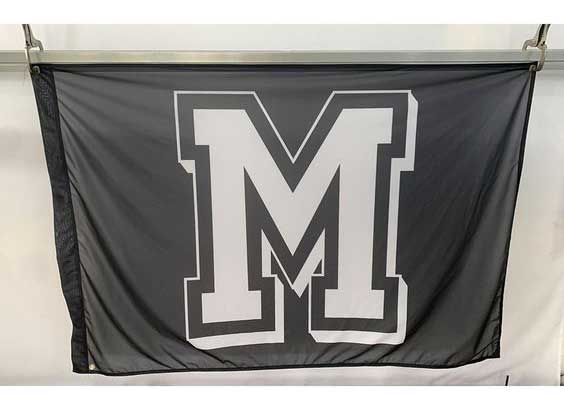 Spirit Flag FAQ
What is a Spirit Flag?
Spirit Flags are large flags that mount on a pole and are carried or ran out during sporting events to excite fans and players. Spirit Flags can also be called – field runner flags, battle flags, cheer flags, letter flags or even captain flags.
What are the standard sizes for custom spirit flags?
Common sizes include 3'x5′, 4'x6′ and 5'x8′. We also offer extra large runner flags like 8ft x 12ft and But we can create custom sizes and shapes for your Spirit Flag if needed.
What are custom spirit flags made of?
Most Spirit flags are made with a lightweight nylon or polyester. These materials hold up well and produce a lightweight, but durable field runner flag.
Do you offer expedited services?
Yes, we can ship a spirit flag next day via express. This means you could get a spirit flag in 2 business days! Please Note, There is additional cost involved for spirit flag expedited services.
How long will my Spirit Flag last?
With proper care, you will get years of use of your flag.
Do you offer Double Sided Spirit Flags?
Yes, if needed you can have a different design on each side.
Are your Cheer Flags sewn or digitally printed?
Our School flags are digitally printed with U.V. Resistant inks
Do you accept School Purchase Orders?
Yes, we can work with your school district or booster club and accept a purchase order for your Cheer Flags.
Does my spirit flag include the flag pole?
Our custom Spirit Flags does not include the flag pole. We do offer a wide selection of spirit flag poles.
Can I wash my Custom Spirit Flags?
Yes, you can machine wash your custom battle flags in your washing machine using the cold water on gentle cycle. For drying your wet flag, simply use an air dry method for your custom flags.
Do your Battle Flags come with pole pockets? Do pole pockets cost more?
We offer a pole pockets option at no additional cost.
What printing method do you use for spirit flags?
Our Spirit Flags are digitally printed using a Dye Sublimation printing process. Dye Sublimation is a printing process that fuses the ink to the fabric of the custom flag.
Can I use my letter flag indoors and outdoors?
Yes, our dye sublimated letter flags are rated for outdoor use.
---
Custom Sizes & Shapes
We offer all the standard sizes used for cheer flags, 3'x5′, 4'x6′, and 5'x8′ If you need a custom size or shape we can help. Feel free to contact us to discuss any custom options you may need for your cheer flags.
Large Field Runner Flags
If you are needing a really big runner flag, we can produce any size you need including popular sizes like 8 x 12 ft. and 10 x 15 ft. Contact us if you need to discuss getting an extra large spirit flag.
No Set-Up or Design Fees
Unlike many dealers, we never charge set-up or design fees on our custom flags. We even offer FREE design services if you need help with your design. Best of all there is no additional charges for our design services.
Fast Turnaround
Some dealers offer turnaround times of several weeks, we offer speedy production times for a super fast turnaround on our Spirit Flags. In most cases you will receive your order in 5-7 business days after you approve the proof. If you have a deadline be sure to mention this to us and we can give you a realistic estimate as to whether or not we can meet your deadline.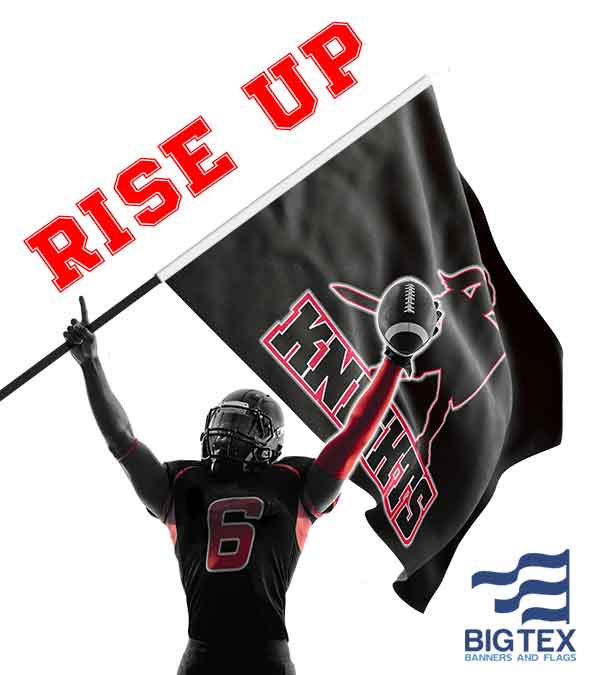 ---
Spirit Flags, Cheer Flags, Battle Flags, or Runner Flags
Cheer flags can be customized with your school's colors, mascot, and other images. Additionally, school spirit flags are also available in a variety of sizes and styles. These features allow you to create the perfect flag for your school or organization. All this makes Spirit flags an easy way to show your school pride and support your team. Order your custom spirit flag today and turbo charge your next pep rally!
We will accept Purchase orders from schools and other non-profit organizations like booster clubs and Youth Sports leagues. You can find out more info on how to purchase your school flags with a Purchase Order here.
Fabric Choices for Custom Spirit Flags
We offer the choice between Knitted Polyester or a Shiny Poly Satin for your custom cheer flag. Polyester is recognized as one of the best materials for outdoor use. The standard option for spirit flag material is Knitted polyester, but if you need a classier presentation for your design, we offer a Shiny Poly Satin. Both materials are offer durability and vivid presentation of your colors and graphics on game day.
Single Sided Battle Flags vs Double Sided Flags
On our single sided Runner Flags, the print has about a 75% bleed through. While the image will be single reverse on the backside, the bleed printing ensures display on both sides of your colors and graphics. Our double sided flag option features two ply construction with a blocker layer in the middle.
---
Spirit Flag Types
Spirit Flags are known by several other names like Battle Flags, Field Runner Flags, Letter Flags, and finally Captains Flags. All these are names for types of spirit flags that are used to get fans fired up.
Battle Flags
Battle flags are another name for larger football spirit flags. Custom Battle Flags can be single or double sided. Either way Battle Flags can lead the charge at pep rallies and sporting events.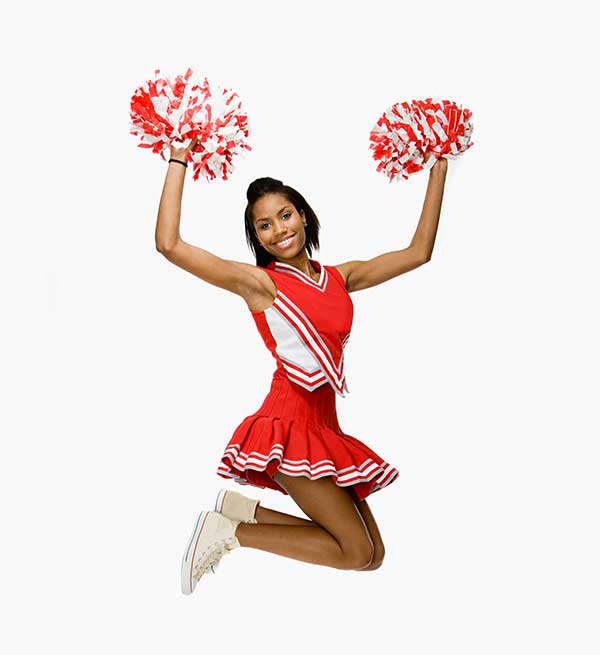 Captains Flags
Captains flags are associated with the spirit captain for your school or team, and used to direct and excite the crowd and raise school spirit. These flags can be single or double sided custom flags. Captains Flags are a great way to get the fans fired up at your next sporting event.
Field Runner Flags
Field Runner Flags is a type of spirit flag that is displayed and ran onto the field at the beginning of the game, and ran up and down the sideline after scoring. These custom flags display school colors and have a logo or message like GO HAWKS (insert your mascot). They are usually extremely large and can be single or double sided flags. A cheer runner flag can add excitement to football games.
Letter Flags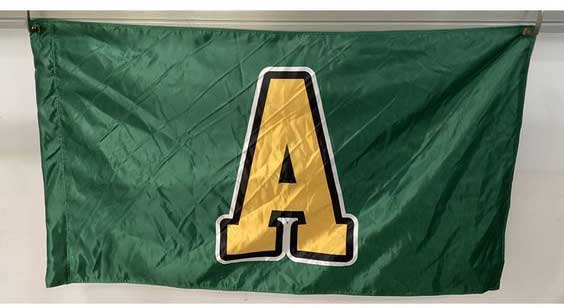 Letter Flags are similar to field runner flags, but are part of of group of spirit flags that spell out a message. Letter flags display a large letter on each of the letter flags. Letter flags are usually double sided flags since they need to read from either side of the custom flag.
---
Spirit Flag Poles
Big Tex Banners offers a variety of spirit flag poles for using and displaying your battle flags. Choose from light weight aluminum flag poles in either gold or silver finish. We offer 1″ or 1 1/8″ diameter aluminum pole options. Choose between single piece pole set or multiple pole sections. We also offer telescopic spirit flag pole option for a convenient travel option on game day.
Spirit Flag Pole Pockets
Spirit flags feature a vertical pole pocket for inserting the flag pole. The pole pocket is closed at the top and holds the flag to the top of the aluminum pole.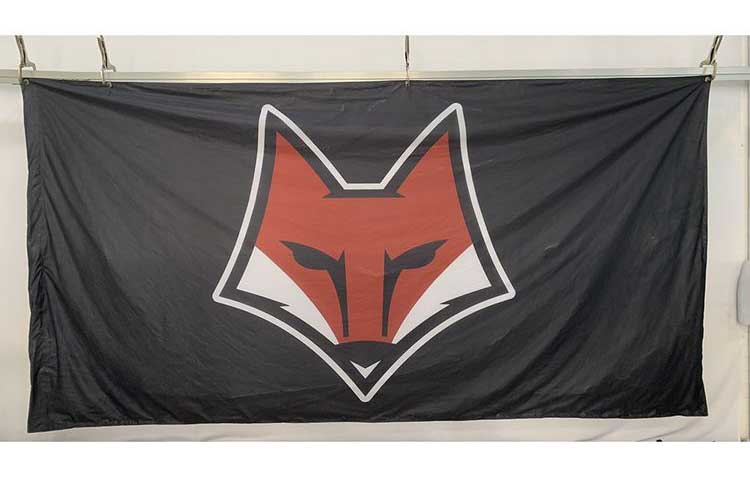 Spirit Flag Grommet Option
While most runner flags utilize a vertical pole pocket, we do offer the option to have a header and grommet set up on your battle flag. Choose either white or black reinforced header with grommets for your custom battle flags.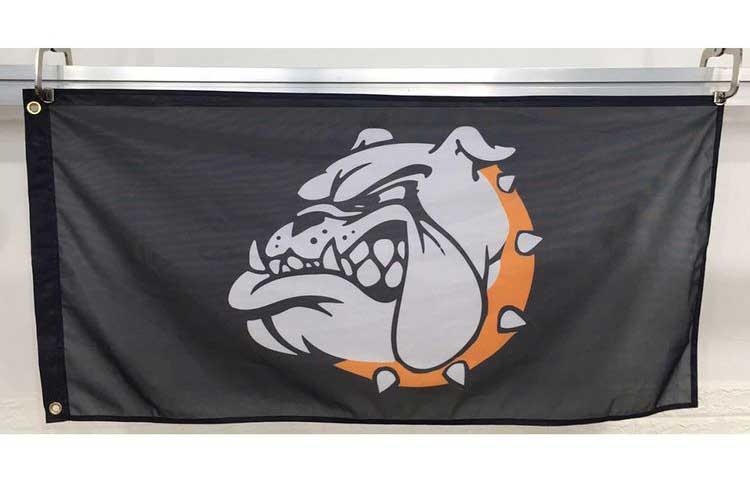 Sectional Pole Options
As mentioned, Big Tex Banners offers several Spirit Flag Pole options that offer the convenience of having sectional or telescopic poles that break down for convenient transportation for your cheerleading squad.
Pole Set Assembly Options
Our sectional aluminum poles feature two types of connections for assembling your spirit flag poles. Choose between pole sections featuring a machined threaded joint with our deluxe flag poles or a "swedged" joint with our standard Spirit Flag pole. Below are images detailing the differences between the connection types. Both options provide easy assembly of your Spirit flag pole.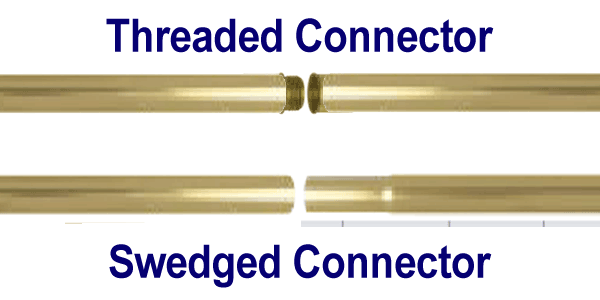 Telescopic Pole Options
Big Tex Banners offers two types of telescopic spirit flag poles

For our Larger Spirit flags, we offer a 15 and 21 ft. telescopic poles. These poles are perfect when you need compact travel options.

Make Your Own Pole
It is not always necessary to purchase a pole for your battle flags, a lot of people just get a piece of 1″ PVC Pipe from the local hardware store for the standard pole pocket. While the price is less for PVC, there are some drawbacks.
You will experience a little pole bend when running with the flag.
PVC does weigh more, so the pole is heavier than that of the aluminum options.
Not as portable as the aluminum pole sets.
If you travel a lot between sporting events, you will need to figure out a coupling system to make the pvc spirit poles bit more portable.
---
Designing Custom Spirit Flags
Big Tex Banners and Flags offers several ways for you to get your custom runner flags designed. Whether you use graphic designers, a designer yourself, or just want someone else to design it, we have an option.
Online Design Tool
Big Tex Banners offers an online design tool that allows you to upload custom artwork, choose custom colors, as well as choose special fonts to enhance your custom flag design. Once done you can submit for quote. Shortly afterwards, our design team will send you a digital proof of your custom flag design.
Downloadable Design Templates
Use our downloadable templates to use with your own favorite design software. Big Tex Banners offer blank design templates for download. We have included all of the popular file formats – AI, and PDF. Download and design with your favorite design software.
FREE Spirit Flag Design Service
If you would prefer not to design your spirit flags, Big Tex Banners offers a free design service for our custom runner flags Simply tell us what you have in mind for your design, send us your print ready logo/artwork and we will put together a design and email a proof for your review.
Spirit Flag Design Process with Proofing
Whichever design option you choose, we will supply a digital proof of your spirit flag design. Once you receive your design proof, you can request changes if needed. On the other hand, if everything looks good email your approval and your order will go into production. PLEASE note, your order will not go into production without you approving your spirit flag design. This proofing process will ensure your design is just what your cheerleading squad needs at football games.
Use Letter Flags with Team Spirit Props like Breakaway Banners
When used in conjunction with other props such as Breakaway Banners or mascots, a letter flag can really raise the spirit of a crowd.
Spirit Flag Summary
Whether you are talking Football Games, Basketball games, or college sporting events. Spirit Flags are a great way to help your cheer teams up the spirit on game day or a pep rally.
Spirit Flags are available in a single or double sided print option.
Quality polyester flag material, lightweight and durable.
Fully Customizable Field Runner Flags -Team colors, logo,
Poles are available for additional charge.
Color matching for team colors using Pantone color system.
Digitally Printed using U.V. Resistant Inks.
Add a Lightweight Aluminum Poles for your Cheer Flags.
FAST Turnaround – Delivery in 5-7 days in most cases. Expedited services available.
---
Pay Later Program
Big Tex Banners offers a Design Now – Pay Later Option

Pick Your Product and Submit A Design or Design Request.
Free Digital Proof via email of the design based on your requirements.
Request Design Changes or Approve.
If you asked for changes, design rep will make changes and send back for review.
If you approve the design, choose payment method.
Your order goes into production.
Color matching available with PMS Color Matching
Giving you piece of mind before your order goes into production.
Get your design set and fine-tuned before you have to pay!