Spinning Dart Banners are the newest way to advertise your business or services.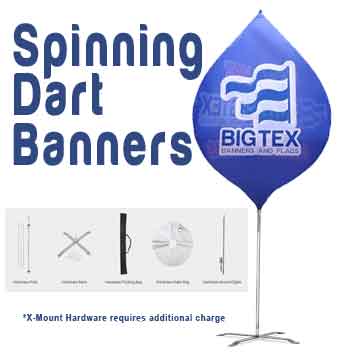 If you are looking for a new way to stand out from your competition this spinning dart banners can do just that, The new shape and dynamic motion of this advertising flag is eye catching variation of the banner flag. These unique features of the spinning banner will draw attention to your business or event.
3D Shape creates a banner flag that rotates with wind for an eye-catching effect.
3 Sides that can each display a different message. Customize each panel with your marketing or company logo.
Unique Shape stands out, perfect if you are in an area where a bunch of traditional advertising flags are displayed.
Display your Spinning Dart Banner indoors with our X-Mount Flag Base or outdoors with our Ground Spike. Both options include rotating mounts with ball bearings for smooth movement.
You May Also Like…