Big Tex Banners offers custom Dibond signs shipped within one business day. Dibond aluminum signs hold up extremely well outdoors to provide a durable and rigid substrate to print on. Custom Dibond signs are quickly becoming the sign panel of choice for sign professionals.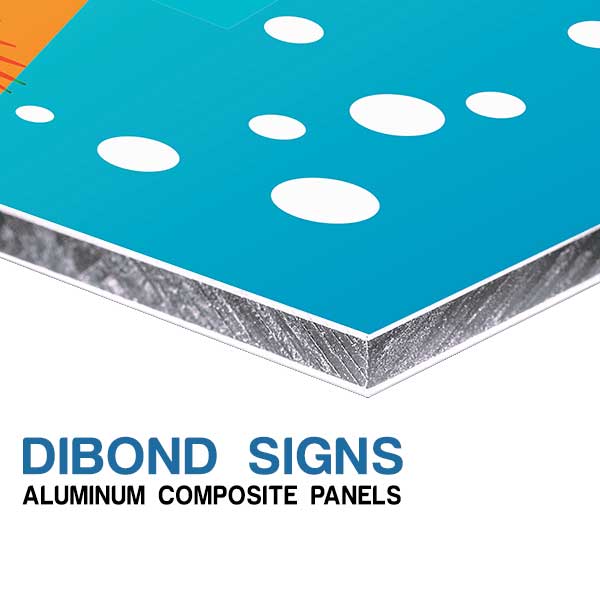 Dibond Sign Printing – Tough Custom Signage
Big Tex Banners offers Dibond printing on both 3mm(aprox. 1/8″) and 6mm (aprox. 1/4″) Dibond signs. Choose to add special options like rounded corners or holes to your custom Dibond signs.
Explore all the value adding services offered by Big Tex Banners and Flags
Full Color Dibond Printing – No Per Color Charge or Set Up Fees
Weather Resistant UV Cured Inks on all Dibond Outdoor Signs
Free Shipping on all Dibond Signs – Includes 4ft. x 8ft. Dibond Signs
We Ship 4'x8′ Dibond Signs Cheaper than anyone!!
Free Design Service – Online Design Tool
Choose an Option to View Dibond Sign Pricing
---
---
What are DiBond Signs?
While most people are familiar with signs made of corrugated plastic and aluminum material. Not as many are familiar with what exactly what Dibond composite sign is and why it is so much better than a plain aluminum sheet. Below we will discuss some of the basic differences and advantages found with using Dibond Signs vs Aluminum Signs.
What are Dibond Signs made of?
Dibond Sign sign material consist of a plastic composite material sandwiched by two thin sheets of aluminum. The PVC material or polyethylene core, adds strength and rigidity to the two sheets of aluminum.
The combination of the plastic core between aluminum provides a much more rigid and durable substrate than standard .040 Aluminum signs. Additionally, some signs done with plain .040 aluminum panels can become wavy or uneven in appearance.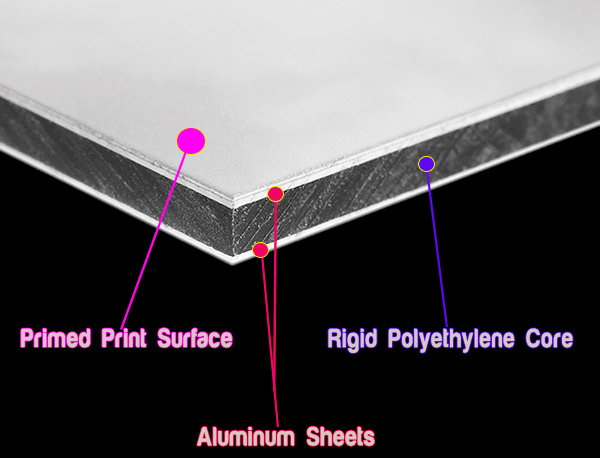 ---
Frequently Asked Questions for Dibond Signs
Will you ship a 4'x 8′ Dibond Sign?
Yes, we can ship any size composite signs all the way up to 4'x 8′. Please Note that the shipping of larger signs will require freight delivery. This may add a few days to the transit time of your Dibond sign delivery. Please contact us if you have any questions.

Do Dibond Signs cost less that traditional Aluminum Signs?
Depending on where you check, composite signs and traditional aluminum signs are close in cost. But, once you weigh all the advantages we discussed, it is easy to see that Dibond offers a better value than traditional aluminum signage.
What are your most popular sizes for Dibond signs?
Most popular composite sign sizes include 8″x12″, 12″x12″, and 18″ x 24″. But, we can produce any custom sized Dibond sign you may need.
Will I receive a Proof before you print my Dibond signs?
Yes, our design team will put together a design and send a proof for your Dibond sign based on the info you submitted. You can request changes until the design is where you want it.
What is the Turnaround Time for Dibond Signs.
Our custom composite signs Ship Next Business Day in most cases. Larger orders may take a day or so longer. If you have a larger composite sign order, and have questions about turnaround times, you can contact us for an exact quote on turnaround time and delivery of your custom Dibond Sign.
What is the difference between Dibond and aluminum?
Traditional Aluminum Signs consist of aluminum sheets in thicknesses of .040 and .080. Dibond Signs consist of a plastic core with a printing surface consisting of a aluminum material. Composite signs come in thicknesses of 3mm and 6mm. The much thicker Dibond sheet provides a much flatter and rigid sign choice compared to aluminum sign metal prints.
Do you offer Dibond Signs with a brushed aluminum finish or other unique metallic texture?
While a brushed Aluminum Finish is not one of our standard options, we can produce special request for Custom Dibond Printing. If you are interested in a brushed aluminum finish, or any printing methods that produce metal prints effects, or metallic paper effects, please contact us to discuss options.
How long will a Dibond sign last outdoors?
Dibond Sign panels can last up to 15 years outdoors exposed to the elements. How long the The printing or graphics last will depend on the method used. The combination of durable, non-corrosive sheets of aluminum composite material means your sign will last much longer than a banner or coroplast sign.
How do you mount Dibond signs?
Composite signs offer a wide range of mounting options. Options for mounting Dibond Signs include, but not limited to stand offs, mounting tape, shadow box mounting, screws with wall anchors and split batten mounting. Contact our customer service team for help with Dibond Sign mounting.
Can I drill my own holes?
Yes, we offer free drilling of holes in your custom Dibond Sign, but if you prefer, you can drill your the holes for your Dibond Signage.
How do I clean my Dibond signs?
You can easily clean your custom Dibond signage with a microfiber cloth using warm water and a mild detergent.
Can I print a different file on the back?
Yes, you can have different Dibond prints on each side of your sign.
---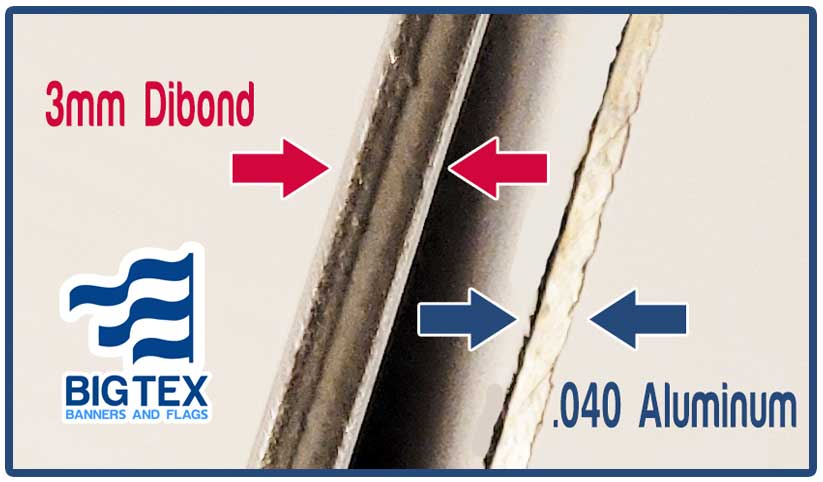 Dibond Signage VS. Aluminum Signs
Dibond Signs offer a number of advantages when compared to the traditional aluminum signs. Below we discuss some of the common advantages that a composite sign offers over traditional aluminum signs.
Flatter Surface – Better Presentation
Dibond Signage provides a much flatter print surface than a standard .040 aluminum signs. Once installed, Aluminum signs can appear wavy, or distorted with dips and bulges depending on the angle you take when looking at it. This is especially true on larger aluminum signs.
This is a type of "Oil Canning" effect that is common with metal roofs and siding. Dibond signs with a plastic core lay much flatter and present a flat and vibrant presentation of your graphics.
Dibond Signage Provide Excellent Value
Dibond signs are much thicker and provide a much more rigid sign panel for about the same price of .040 Aluminum. If you wanted to increase the rigidity of an Aluminum Sign you would have to upgrade to the next thickness, this upgrade would almost double the cost. Getting a composite sign means you increase the thickness of your aluminum sign at virtually no additional cost.
Easier Handling and Installation
While Dibond signs are thicker and weigh a little more than a single sheet of .040 Aluminum, they are surprisingly lightweight. This helps make composite signs easier to handle and transport. For example, a sheet of .040 Aluminum can be flimsy and hard to handle and move for one person. A Dibond signs rigid nature makes them easier to work with on larger sized signs.
Dibond Signs and Outdoor Durability
The sturdy construction of Dibond Signage make them highly durable and a perfect choice for outdoor signs. The Dibond metallic surfaces are corrosion resistant and hold up well to harsh weather conditions. Combine this with digital UV Resistant printing and the result is a durable sign suited for extended outdoor use with vibrant full color Dibond prints.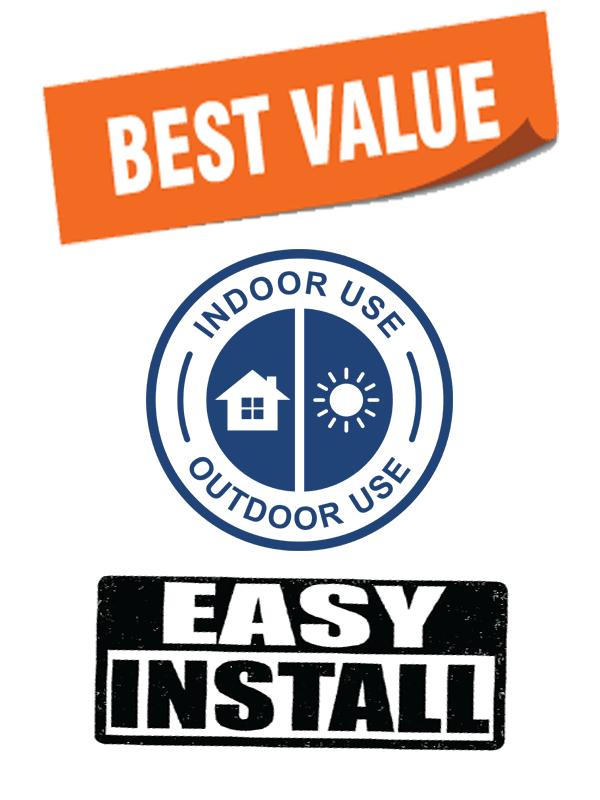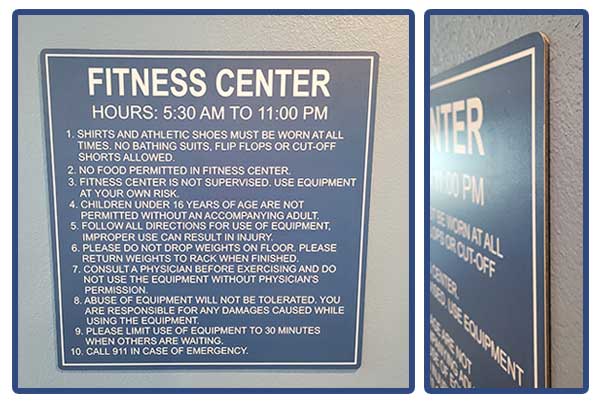 Dibond Signs Benefits
High strength – Combination of the dual aluminum sheets and the plastic core provide excellent strength and durability.
Low weight – Dibond Sheets are lighter to a comparable sized sheet of aluminum.
Weatherproof – Signage hold up extremely well to the elements and can be used outdoors.
Wide workable temperature range – composite signs maintain structural stability in a wide range of temperatures.
Fully machinable – Aluminum composite material is easy to work with, custom shape option available.
Fully recyclable – Both the Aluminum material and plastic core in composite signs are recyclable.
Non-corrosive – Dibond Panels use non-corrosive aluminum and is safe to install on a wide range of structures.
Food-safe – Dibond Signage can be safely used in food prep areas.
It can be printed on directly – The flat surface of Dibond sheets eliminates "Oil Canning" which makes them an excellent choice for digital and screen print processes.
Ordering Dibond Signs
Big Tex Banners offers several ways to submit your design when ordering our custom Diband signs. Whether you want to design your own Dibond Sign, or just prefer to have us design it for free, Big Tex Banners offers several ways to order custom signs.
Dibond Sign Design Tool
Use our online design tool to design a Dibond print. You can upload artwork, pick colors, and choose fonts. Completely take control and personalize a Dibond sign for your project online.
FREE Design Service
If you choose not to design your own Dibond signs, Big Tex Banners will design them free of charge using your artwork and info. Just tell us what you are looking for in your aluminum composite sign design and we will put together a design and provide a digital proof for your review.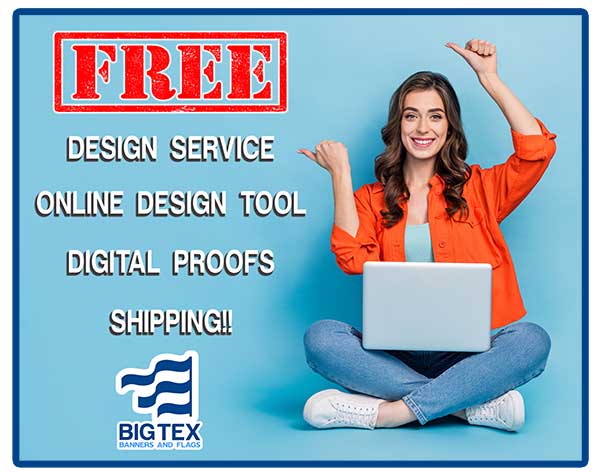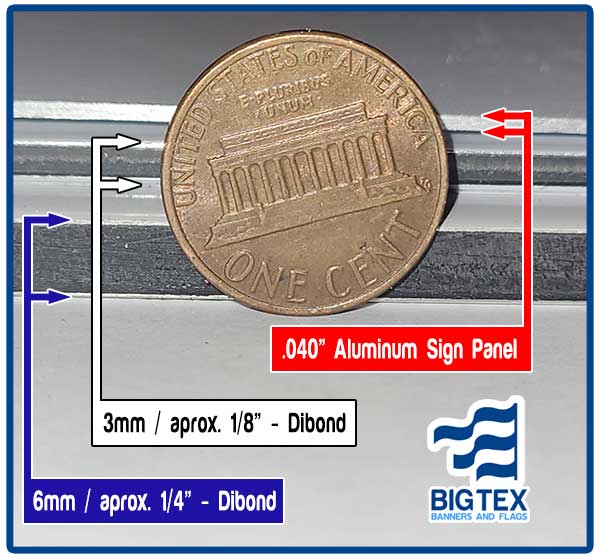 Popular Sizes for Custom Dibond Signs
Big Tex Banners and Flags can print any custom Dibond signs as small as 6″ x 6″ and all the way up to a full sized 48″ x 96″ outdoor sign.
Choose either 3mm or 6mm Thickness for Custom Dibond Signs
Big Tex Banners offers the choice between a 3mm (aproximately 1/4″) thick Dibond Print or 6mm (Approximately 1/4″) Dibond Printing options.
For standard signage, our 3mm Dibond sign material will work for most sign projects. For some special Dibond printing applications, you may need the thicker 6mm composite sign panels. The 6mm thickness features a thicker plastic core, but the aluminum sheet that makes up the Dibond metal layers is the same as found in 3mm Dibond Signs.
While a 6mm Dibond Panel; offers more stability on larger signs, the "flatness" of the panel is the same as you find in the 3mm composite sign Panel. Please contact our customer service team if you have questions about which thickness of Dibond metal panel you need.
Limited Options for 6mm Dibond Signs
For our 6mm Dibond Signs, the posted minimum size is 36″ x 36″. If you need a custom size smaller than our 36″ x 36″ minimum, contact us for options. We can produce 6mm Dibond Signs smaller than our 36″ x 36″ but it requires a special quote.
---
What is the difference between ACM and Dibond signs?
The answer would be nothing, that is because ACM stands for Aluminum Composite Material. DiBond is a brand name for an ACM Panel that is used primarily for sign panels. There are many trade or brand names for ACM panels like E-Panel. Alupanel, and Signabond to name a few.
Dibond has become a popular reference when talking about ACM Sign Panels, just as the brand Kleenex is used for to refer to tissue as a whole.
UV Safe Printing
As previously discussed, Dibond Sign Panels provide an excellent printing substrate for multiple printing methods. Our Dibond prints feature durable UV ink application with spectacular representation of your graphics.
Color Matching
If you need color matching for your Dibond Signage, we can match colors using the Pantone Color System.
Vibrant colors and Impressive Detail
When you combine the smooth printing surface and 720×720 digital printing to produce impressive graphics and colors for your custom Dibond Signage.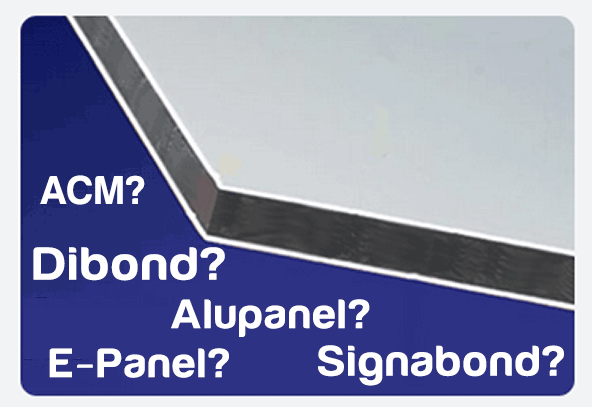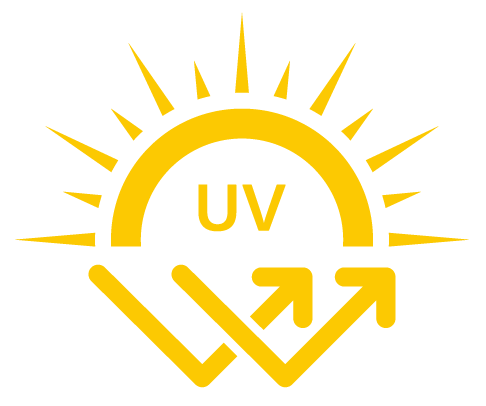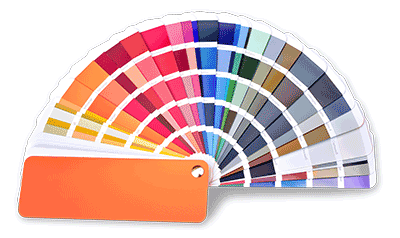 ---
Options for Ordering Custom Dibond Signs
Big Tex Banners offers several Dibond printing and finishing options to customize your Dibond Sign. These options cover mounting and display options as explained below.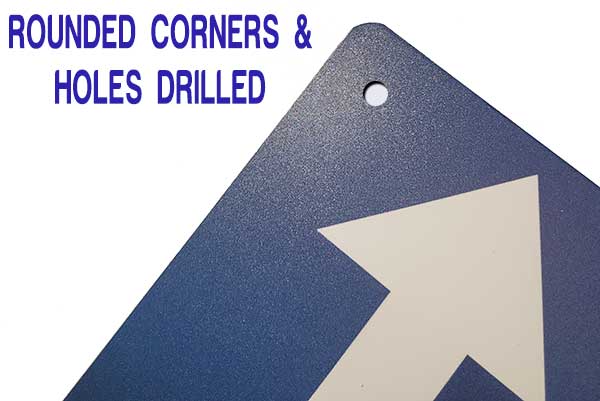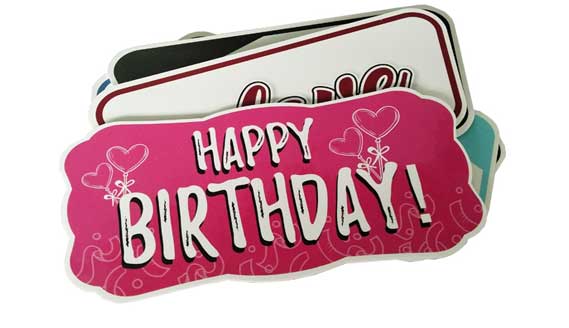 Holes Drilled for Mounting
We offer the option to include drilled holes in your Dibond sign. Choose between having all four corners drilled, top corners or any combination of corners. We do charge a small fee of 5% to have holes drilled in your Dibond Signage.
If you have questions about the drilling of holes or mounting questions in general about mounting your Dibond Sign, please contact our customer service department with any questions you may have.
Rounded Corners
Another Dibond Printing option we offer is the rounding of corners on your Dibond sign. Round corners give composite signs a clean decorative look that really enhances the presentation of your aluminum Dibond prints.
You can request 1/8″ rounded Dibond corners on 36″ x 36″ and smaller. For Dibond signs larger than 36″ x 36″, you can choose to have 1/2″ and 1″ Rounded Dibond Corners. There is no upcharge to have rounded corners on put on your Dibond signage.
Custom Shaped Dibond Signs
Big Tex Banner offers custom cut options for our custom Dibond Signs. If you have a composite sign project that will require a specific shape for your Dibond signage, please contact us here for a quote on a custom shape Dibond Sign.
Wholesale Pricing on Custom Dibond Signs
Big Tex Banners offers discount pricing on larger orders of Dibond signs. Please Contact Us Here if you have a larger quantity order of composite signs and would like to see if it qualifies for our Wholesale Dibond Sign Pricing.

Applied Graphics vs Direct Printing
For our Dibond printing, we use two methods to produce our Dibond Signs depending on the size of the signs. Both processes produce quality results.
Applied Graphics
For sizes below 36″ x 36″, our Dibond Signs are produced by applying vinyl graphics to composite sign blanks. The vinyl graphics are printed with the same quality UV resistant inks we use for outdoor graphics. This allows us to provide smaller sized signs at discount prices.
Direct Printing
For signs 36″ x 36″ and larger, we use a direct printing method and print the graphics directly onto the Dibond. The larger sized signs allow us to directly print onto the Dibond metallic surfaces.
Quality Results
Both printing options produce quality results for outdoor signage. The reason for the two processes has to do more with production turnaround and cost on our end. Our Dibond Signs exhibit excellent durability against outdoor exposure, regardless of which process is used.
Top Uses for Dibond Signs
Dibond signs offer a wide range of uses. Their durability and resistance to the elements means they are useful both indoors and out. Here are some of the top uses for Dibond signs:
Outdoor Signage
Dibond signs are commonly used for outdoor advertising and signage purposes. The weatherproof meaning they can withstand a wide variety weather conditions without warping, fading, or deteriorating. They are often used for store fronts, directional signs, real estate signs, construction site signs, parking signs, and more.
Point-of-Purchase Displays
Dibond signs can be used to create eye-catching point-of-purchase displays in retail environments. They offer the flexibility to be custom-designed and cut into various shapes and sizes to showcase product information, promotions, or special offers.
Wall Art and Decor
Due to their sleek and professional appearance, Dibond signs can be used as decorative wall art in offices, restaurants, hotels, or even your home. They can be personalized with photos, personal artwork, or your business branding elements. Dibond signs can be produced to enhance the visual appeal of a any space you choose.
There are also artistic printing processes that utilize the many types of finishes offered on Dibond panels. These finishes include a brushed aluminum finish that offers a unique metallic finish.
Construction and Job Site Signage
Dibond signs are commonly used on construction sites to display safety information, regulations, and warnings. Their durability ensures they can withstand the rigors of a construction environment, while their low cost can justify their use as temporary signage.
Informational Signs
Dibond signs are an excellent choice for informational signs, such as building directories, office directories, event schedules, and facility information. They can be easily mounted on walls or freestanding structures.
Event and Sponsorship Signage
Dibond signs can be used for event branding and sponsorship signage. They can display sponsor logos, event information, and directions, helping attendees navigate the venue and promoting sponsors' brands. Dibond signs are light and easy to handle, making them a good choice for short term use at special events.
Menu Boards
In restaurants, cafes, and food establishments, composite signs can serve as menu boards. They can be easily updated and customized with menu items, prices, and specials, providing a professional and clean presentation. Dibond signs are food safe and can be extremely useful for a number of food service applications.
Remember to always check local regulations and guidelines when using outdoor signage or installing signs in public spaces. Additionally, consider consulting with a professional sign maker or graphic designer to ensure the best results for your specific needs.