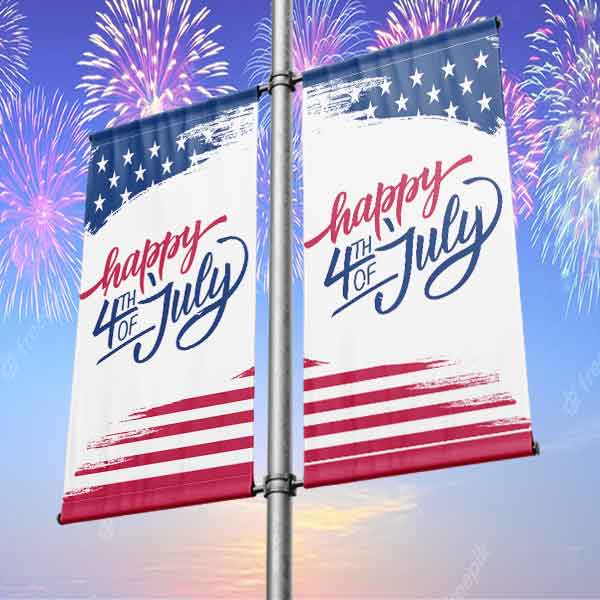 Big Tex offers both vinyl and fabric pole banners with low wholesale pricing on bulk orders. Pole Banners can provide an excellent way to promote events, a business, or organization. Street Pole Banners attract the attention of both pedestrians and drivers passing by when promoting events. This makes pole banners a cost-effective way to advertise when compared to other promotional methods.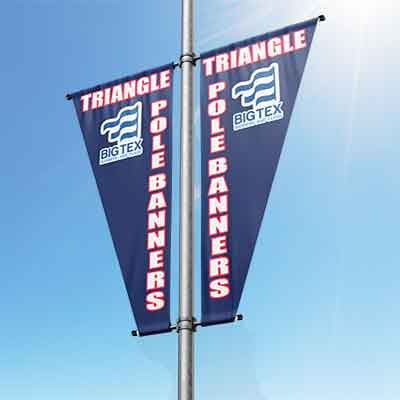 Triangle Pole Banners
Big Tex Flags offers custom pole banners in different shapes. The most popular option is our Triangle light Post banner. These uniquely shaped street banners are constructed of the same 600D Polyester Canvas Material used on our Fabric Pole Banners.
View Pole Banner Pricing
---
---
Vinyl and Fabric Pole Banner Printing
Choose between fabric or pvc banner material. Each material has distinct advantages when comparing the two.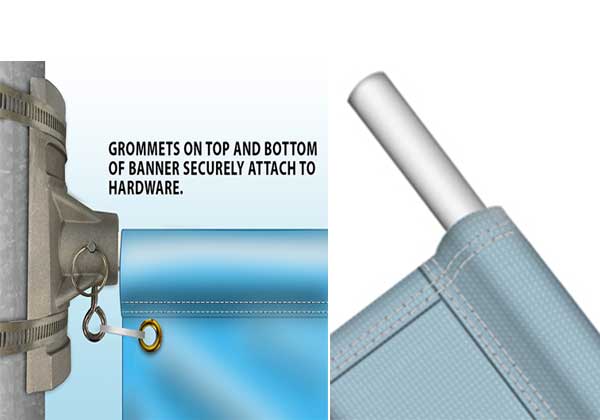 Vinyl Pole Banners
Vinyl Pole Banners are printed on vinyl scrim material you would find with a standard vinyl banner. The main difference is while your standard vinyl banner is 13 oz vinyl scrim, the average vinyl light pole banner is made with a heavier scrim material. Big Tex Banners offers 18 oz vinyl blockout vinyl scrim for our custom pole banners. Vinyl Banners are typically better at standing up to outdoor use.
We offer a full range of sizes and pricing. Below is an example for our 18″ wide option. Click on table to view pricing for all sizes and hardware options.
---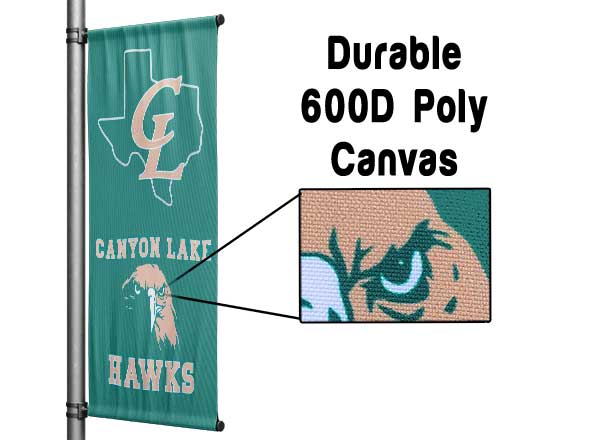 Fabric Pole Banners
If you are looking for a classier look for your light pole banners, Big Tex Banners offers fabric pole flags printed on quality 600D polyester canvas on our custom pole banners. Fabric offers a soft texture and high-quality printing capabilities. Fabric can be printed in high resolution. Making them effective when displaying intricate designs or photographs. A Fabric street banner can also typically more Eco-friendly than vinyl banners. Especially since they can be recycled or reused. However, they may not be as durable as vinyl and may be more prone to damage from weather conditions.
Mesh Pole Banner Material
We can also provide a mesh street post banner material if wind is a concern. Mesh material would be a better choice than wind slits.
We offer a full range of sizes and pricing. Below is an example for our 18″ wide option. Click on table to view pricing for all sizes and hardware options.
Wholesale Quantity Discounts are Applied in Cart
---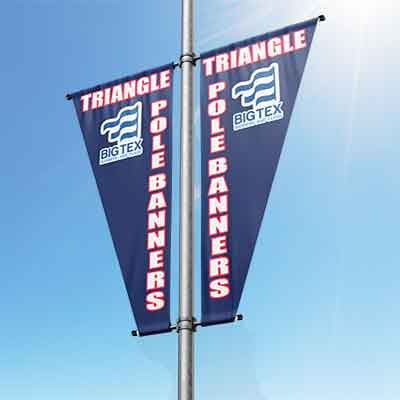 Triangle Pole Banners
Single or Double Light Pole Mounts Available
Custom Shapes available to fit any need
Downloadable Design Templates or use our Online Designer
Full Color – No Set-Up Fees
Wholesale Pricing on Custom Shaped Pole Banners. Our Triangle Pole Banners are made with durable 600d Polyester Canvas. Big Tex Banners and Flags can produce a wide range of custom shapes and sizes. Feel free to contact us for details.
We offer a full range of sizes and pricing. Below is an example for our 18″ wide option. Click on table to view pricing for all sizes and hardware options.
---
Pole Banner Frequently Asked Questions
What is the standard size of Street Pole Banners?
Most Pole Banners are 30″ – 32″ in width, while the height will depend on the amount of information and design requirements. You can learn more about how to decide what size to print pole banners.
Are your pole banners printed double sided? Is single sided available?
Yes, we offer both single and double sided options for our banners.
How Fast Can I get a custom pole banner?
With our "Next Day" option, you could get your order tomorrow if ordered before 12 noon central with our priority overnight shipping.
Should I choose a Fabric or Vinyl Pole Banner?
For durability, a vinyl street banner is your best choice, but if you want a classier look, fabric pole banners are printed on a polyester canvas that presents an upgraded look of distinction versus PVC/plastic pole banners. If you are using detailed graphics, you may want to choose a fabric for vibrant pole banners with a softer texture.
How long will my street pole banners last?
There are several factors that contribute to the life span of a outdoor banner. But in general, a 18 oz vinyl pole banner will last 2 -4 years. While a fabric pole banner will last 1-2 years. As mentioned, the times given are for continued daily use for an extended period. The amount of exposure to direct sunlight will determine the overall life of your Street pole flags that are only used for specific occasions will last much longer.
Do you offer Triangle Pole Banners?
Yes, we can produce a number of standard and custom shaped light pole banners and hardware. Please contact us with any special request you may have for a free quote.
I need help in designing my pole banner. Can you help me design my pole banner?
Yes, we offer a free design service. We can take your print ready logo, artwork, and ideas to design an vibrant pole banners.
Do you offer pole pockets on your pole banners? What sizes do you offer? Any restrictions or differences?
Yes, all of our light post banners have pole pockets to accommodate pole brackets. We can produce any size pole pocket you require. In most cases both the top and bottom pole pocket are the same, but if needed we can provide custom sizes.
Do your Banners have a matte or glossy finish?
For our vinyl banner, we offer a matte finish as the standard option. But, if you require a glossy finish we can provide this option for an additional charge. As far as our polyester fabric pole flags, we offer a shiny silk option, as well as knitted polyester options. Our design reps can help you choose the best option for your promotion.
Can I order just replacement banners or just the hardware?
Yes, if you only need a replacement banner or replacement hardware, we can help. Choose the banner only option when checking out or contact if you have any questions.
Do you offer pole banners with wind slits?
Yes we can provide the half cut circles commonly referred to as wind slits or wind flaps. You may want to consider a mesh option versus cutting wind slits or wind flaps. Please note there is an additional charge for wind flaps.
Is the pole banner hardware compatible with square poles or flat surfaces?
Yes, you can have a different design printed on each side of a double sided pole banners.
I have two different graphics. Can I put two banners on a single hardware arm, back-to-back?
Yes, you can have a different design printed on each side of a double sided street banners.
Pole Banner Brackets
Big Tex Banners offers several types of pole brackets to display pole banners. You can choose from single or double pole brackets, wall mount brackets, as well as a premium spring pole mount. All brackets feature a 3/4″ diameter pole that requires a 2″ pole pocket.
Standard Pole Banner Brackets
Our standard light pole banner hardware kit consist of 2 aluminum mounting brackets, 4 Stainless Steel straps, and 2 Fiberglass Poles that offer additional strength to resist wind. Brackets fit round or square light post. Mounting kits for single double sided banner display. Available sizes include 18″, 24″, 30″ and 36″ widths.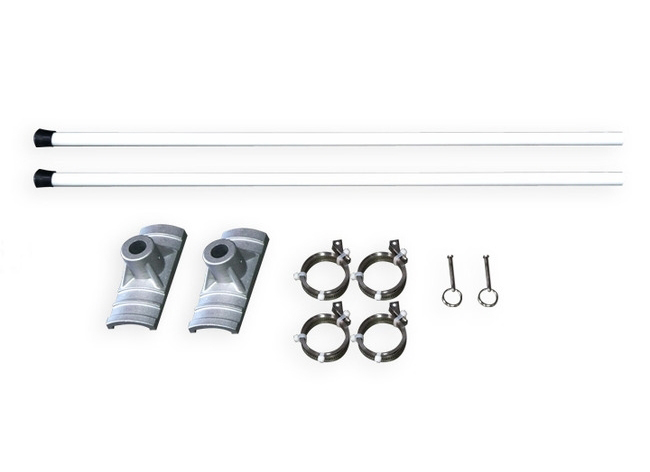 Wall Mount Pole Banner Brackets
Our wall mount hardware kit allows you to display your personalized banner on a flat surface. These brackets work well for displaying your own personalized banners on the the side of a building. Kit consist of 2 aluminum mounting brackets with pre-drilled holes and 2 – 3/4″ diameter poles for 2″ pole pockets.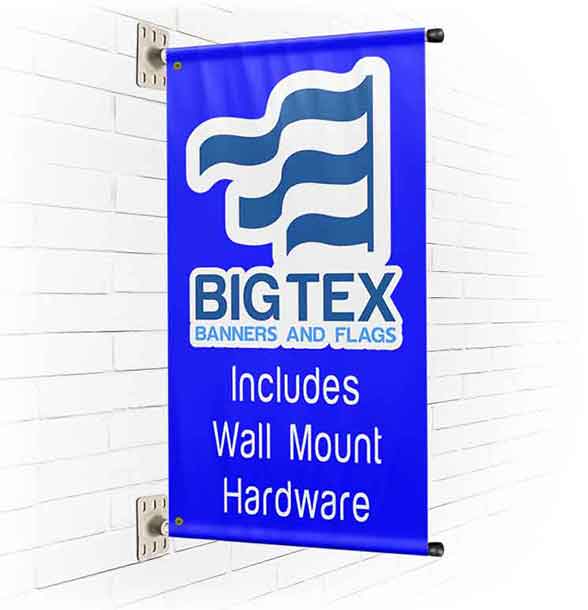 Single or Double Arm Display Options
You can choose between single or double arm displays for your custom light pole banners. Double arm displays feature two poles, one on each side of the pole.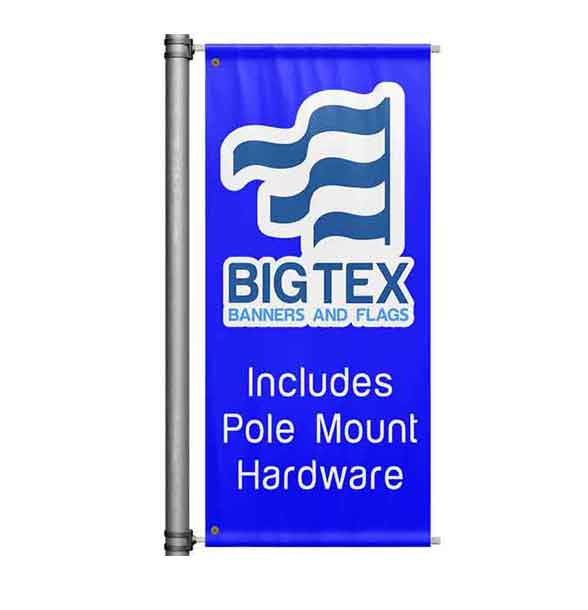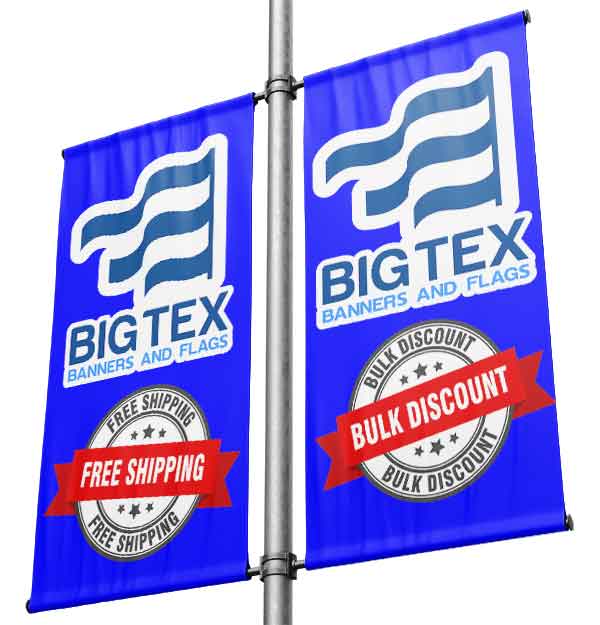 Use Your Existing Hardware
If you have existing hardware, we can customize our light post banners to fit any existing set up you currently have. Whether you need custom sized pole pockets, or double sided pole pockets. So if you just need a banner, contact us to discuss your display options.
---
Printing and Design Options for Personalized Pole Banners
Big Tex Banners offers high quality banners with several printing options to insure your personalized pole banner fits your display needs.
Single and Double Sided Printing Options
Big Tex offers both single and double sided options that allow a two sided design. With our double sided option, you can have a different pole banner designs on each side.
Custom Pole Banner Sizes
Aside from our standard banner size widths of 18″, 24″, and 30″, we can produce a custom sized pole banner, as well as custom shapes including Triangle Pole Banners. If you need a custom dimensions for your pole banner just contact us here for a quote.
Pole Banner Printing Specifications
Vinyl Pole Banners
Our vinyl promotional banners are digitally printed high resolution using 720 x 720 with U.V. Resistant Inks.
Fabric Pole Banners
Most companies will offer vinyl as the only banner option. We offer Fabric option printed using a dye sublimation process.
Best Printing Option?
Both printing processes produce high resolution graphics to maximize visibility.
Pole Banner Color Match
If you need to match print color on your banner, we use the Pantone matching system to match print colors. Please contact us if you have questions and guidance on using the Pantone color specs for a color match.
U.V. Resistant Inks
Both our fabric and vinyl banners are printed with UV resistant inks that rated for outdoor use. These durable inks allow for machine washing of the fabric pole banners, and for the vinyl pole banner, gently wipe with a damp cloth using a cleaning solution.
Design Options
There are several design options for personalized pole banners.
Use our online design tool – Our online design tool allows you to upload your own design, as well as choose colors and fonts.
Upload your print ready files – If you prefer to design your banner on your favorite design tool, you can upload your print ready design when checking out or just submit for quote.
FREE Pole Banner Design Service. – If you are staring at an empty canvas and are not up for designing your pole banner. Use our FREE Design service. We will take your print ready logo and artwork to put together an effective design free of charge.
Print ready Artwork
When submitting artwork for a custom pole banners, be sure to submit images with a resolution of at least 150 DPI. for best results. Never use low resolution images from the internet to avoid blurry pixelated prints.
---
Pay Later Program
Big Tex Banners offers a Design Now – Pay Later Option

Pick Your Product and Submit A Design or Design Request.
Free Digital Proof via email of the design based on your requirements.
Request Design Changes or Approve.
If you asked for changes, design rep will make changes and send back for review.
If you approve the design, choose payment method.
Your order goes into production.
Color matching available with PMS Color Matching
Giving you piece of mind before your order goes into production.
Get your design set and fine-tuned before you have to pay!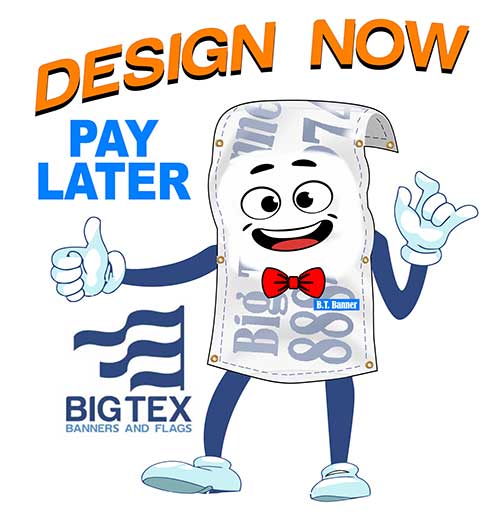 ---
Deciding what Size Street Pole Banners you will need
One of the most common questions we get is what is the standard size for pole banners. While there are popular sizes for custom light pole signs, the correct answer is there is no standard size.
First Things First
The first thing you will want to do is check if there is any local regulations in regards to pole banner size. Larger municipalities will have some type of regulations for displaying street pole flags. The image below is an example of regulations that can determine banner size.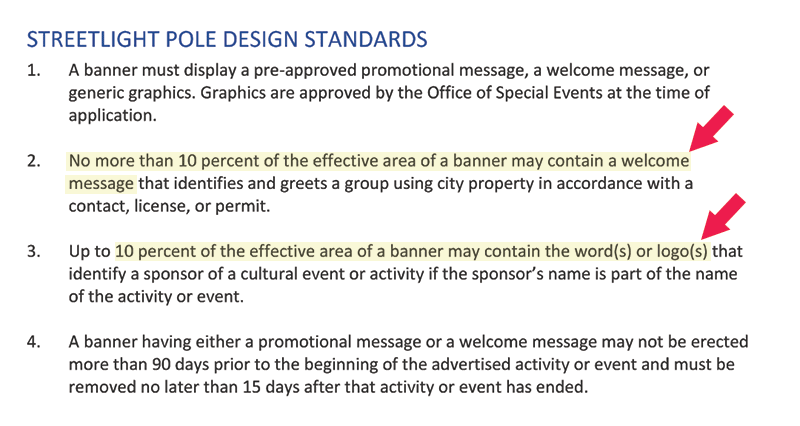 As you can see from the example above, regulations can play a huge role in deciding your design and size of your custom pole flag.
Use a Letter Visibility Chart
Using a letter visibility chart like the one below.can help you decide how big the lettering in your design will need to be in order to be read the desired distance. So sketch out your basic banner idea with the message you have in mind. This will give you starting point to work with before your branding and images.
Establish Branding
Most light post signs feature some type of branding like a city name, organization or business name somewhere in the design. Decide how much of a role your branding will play in the overall design. As demonstrated below, the branding can be a small part of thee bottom, or can be the whole purpose of the design.
Final Considerations for Pole Banner Size
As you can see there are many factors to consider when deciding what banner size to choose. We briefly covered these factors, but if you have questions, you can always contact us and we can help you step by step to determine a size. Click here If you want to use our free design service to help determine the banner size you need.
Custom Pole Banners – Conclusion
A Pole Banner is a great way to spruce up city celebrations and seasonal promotions using light posts. With several bracket and material options to choose from, a street banner can provide flexibility as well as being extremely cost effective way to promote special events.
You May Also Like…