Breakaway Banners or Football Run Through Banners, are a great way to build team pride for fans and players at a sporting event or pep rallies. We offer quality fabric breakaway banners, not the heavy plastic vinyl breakaway banners that are hard to transport and store. Our Custom Run Through Banners feature bright vibrant colors and are durable enough for extended outdoor use.
Breakaway Banners / Football run through sign!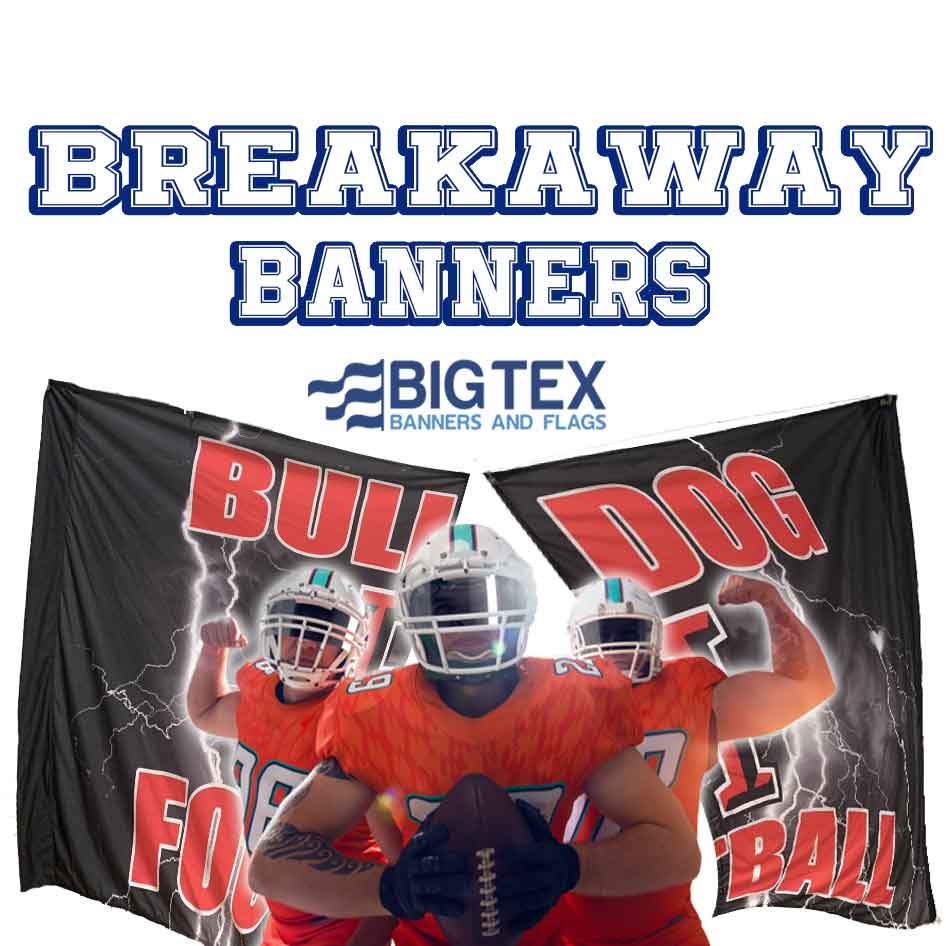 Create awesome Custom Breakaway Banners for your school, team or booster club. We offer custom sizes and pole options to fit your game time needs. Use our Football Breakaway Banners at sporting events and pep rallies to football games, pep rallies, or home coming games and a wide range of sporting events any
Fast Turnaround – Receive your custom breakaway banner in 7-10 days after design approval.
Order your breakaway banner with the poles included or without and make your own poles.
No Setup Fees or Shipping Charges – Never a surprise at checkout!
Bulk Discounts for 3 or more Breakaway Banners
We Accept Purchase Orders from schools and related organizations.
FREE Design Services – FREE Shipping
Create your own personalized breakaway banners in our online design tool or use our design team. Our professional graphic designers can put together a custom design free of charge. Simply tell us what you have in mind, and provide our design team with your artwork and colors and we will provide a free digital proof. After receiving the proof, request changes to your design or approve for production.
---
Purchase Options for Run Through Banners
Big Tex Banners offers a large selection of football breakaway banners with sizes to fit any size team. Below you will find the most common sizes used for football run through banners.
Standard Sizes
7ft. x 12ft. – $219 // 6ft. x 12ft. – $189
7ft. x 8ft. – $179 // 5ft. x 8ft. – $135
Larger Breakaway Banners
10'x 12′ – $313 // 10'x 15′ – $392
Custom Sizes Available
We offer Several options for purchasing a sports run through sign.
Durable Construction
Our quality Fabric breakaway banner features large 5.5″ pole pockets on both sides of the breakaway banner. These larger side pole pockets allow you to choose a number of pole options for holding up run through banners.

We use Velcro strips in the center to keep banner pieces flat as well as keeping the banner connected until the grand moment. Quality material and durable construction combine to ensure our breakaway banners will hold up to even the toughest football team running through them.

---
Will you accept a Purchase Order from our school for a Breakaway Banner?
Yes we will accept purchase orders from schools, booster clubs, and other non-profit organizations needing Breakaway Bannrs.
Is this a Vinyl run through banner?
No, we only offer premium fabric breakaway banners that are easier to store, transport, and can be machine washed.
How do the two halves of the football run through sign attach?
We use Velcro type hook and loop closures sewn into the middle edges of the fabric breakaway banner.
Will I receive a proof of my custom breakaway banner design?
Yes, our design team will provide you a proof free of charge, this allows you to request changes and get your breakaway banners designed exactly how you want.
Do you offer custom sizes on run through banners?
Yes, We can make any size run breakaway banner you need. Contact our customer service team and we can custom manufacture any size bust through banner you need.
Do You Offer Nylon Breakaway Banners?
No, but we offer polyester fabric run through banners that offer all the advantages of a fabric banner made from nylon. Our breakaway banners are printed using a sublimation printing process that creates vibrant colors and graphics suited for outdoor use.
Are the poles included?
We offer an option that includes two poles with your breakaway banner for you convenience. So if you need the poles included just click yes on the drop down and it will automatically add a set of poles to your order.
Pay Later Program
Big Tex Banners offers a Design Now – Pay Later Option

Pick Your Product and Submit A Design or Design Request.
Free Digital Proof via email of the design based on your requirements.
Request Design Changes or Approve.
If you asked for changes, design rep will make changes and send back for review.
If you approve the design, choose payment method.
Your order goes into production.
Color matching available with PMS Color Matching
Giving you piece of mind before your order goes into production.
Get your design set and fine-tuned before you have to pay!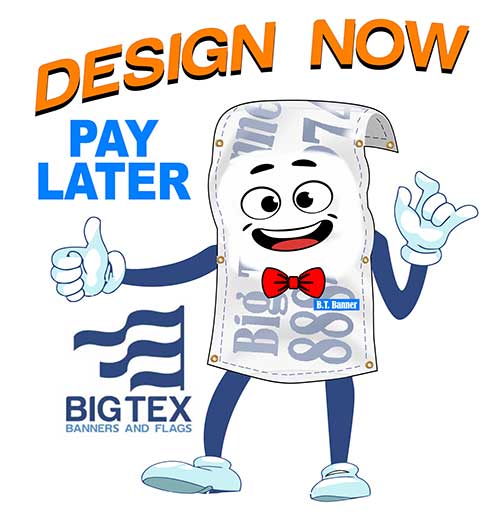 ---
Design tips and Options for Custom Breakthrough Banners
Whether you decide to design your own personalized banners, or you plan to use professional graphic designers, here are a few things you will need to keep in mind during the design process for creating awesome personalized run through banners.
When doing your own design, do not use low resolution clip art from the web in your custom banner design.
Any images or team logo you use in your custom banner should be at least 150 dpi. for best results.
If you need color matching for your personalized banners, please provide PMS colors, if you need help with this please contact us.

Use our downloadable templates we if you would like to design your breakaway banner on your computer. Simply upload your design when you checkout.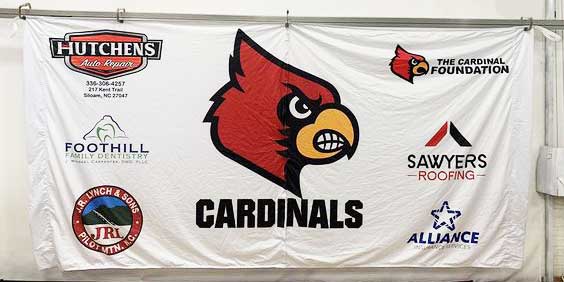 Pre-Designed Breakaway Banner Templates
We offer pre-designed templates here. Simply customize the design to your preference. Change colors, text or images!
Simply click on any design below and you will be taken to our online designer with that breakaway banner design pre-loaded. You can change and customize the design to meet your needs. Change colors, add custom text, or upload and add your images!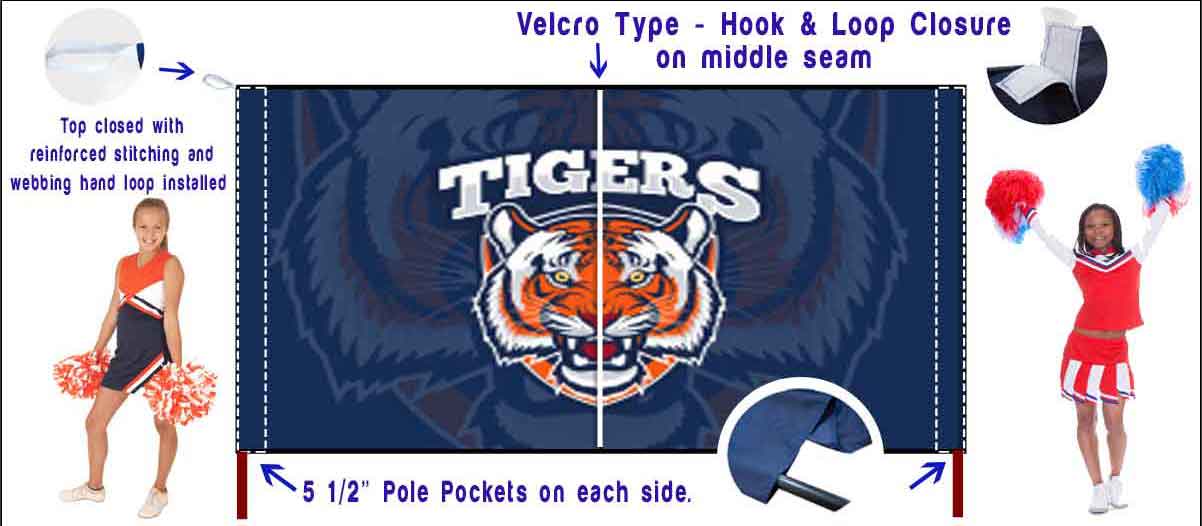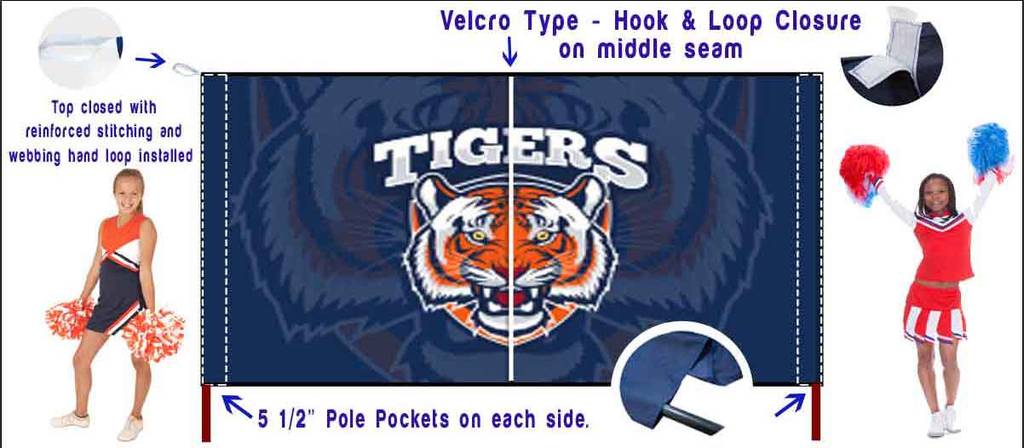 Fabric run through banners – NOT Plastic
Our breakaway banners are made of durable 250g Soft Knitted Polyester, not the plastic vinyl banners that you may find offered by other suppliers. This means you can wash our football banners and use them for years to come. We print our reusable run through banners using U.V. resistant inks digitally printed to create bright and bold colors that will stand up to years of use.
5 1/2″ Pole Pockets
Large Pole Pockets are installed on both sides of our breakaway banners, this provides a convenient way to hold the breakaway banner with a simple pole inserted in the pocket. The larger pole pockets means that any pole of 1″ diameter or more will work for holding the breakaway banner upright.
While we offer a pole option for you to purchase, you can easily use simple options that can be found at your local hardware store. These options include 1′ PVC pipe and wood dowel. When choosing a pole size for run through banners, add at least 1ft. – 2ft to the height of your breakaway banner. For example, if your banner is 5ft. tall, you will want a pole that is at least 6-7ft. tall to keep the banner off the ground and make it easier to run through.
Breakaway Banners uses simple "hook and loop fasteners".
Our custom breakaway banners are held together by Velcro strip type hook and loop closures. on the middle seam. The inside seam has 1″ velcro strip closure running down the height of the breakaway banner seam. On the overlap seam there are 3 – 1″ X 4″ velcro strips of hook material The hook and loop closures provide enough grabbing power to hold the run through banner pieces together, but not enough so the banners are easily separated when the team runs through the banner in a grand entrance.
Polyester or Nylon Breakaway Banner VS PVC Plastic Run Through Banner
Fabric run through signs offer a significant number of advantages over the standard vinyl Banner offered by most suppliers. Below we examine these advantages to show that using fabric is your best option for your Breakaway Banner.
Storing Your Breakaway Banner
When it comes to storage between games, there is no comparison. A fabric run through banner easily folds up to a smaller size that is much easier to manage than the PVC version. The rigid nature of Vinyl Breakaway Banner material means that the run through banner will have to be rolled up meaning it will take up more room and effort to store.
Vinyl banner material is much heavier
A Vinyl break through banner is much heavier compared to a polyester or nylon breakaway banners. The heavier weight of breakaway banners made of vinyl makes it much harder to carry and hold up. In some cases it may take 2 people to holding each side a larger vinyl banners, but a fabric breakaway banner can easily be held by one person on each side without much effort.
Our Breakaway Signs No Sweat – Easy Set Up
Our reusable breakaway banners typically set up in just a few minutes.
5.5″ Pole Pockets on each side to accommodate your choice of poles.
Our breakaway banners are made of high quality materials that are rated for outdoor use.
Graphics are much more Durable on Fabric Run Through Banners
The graphics when digitally printed on a fabric breakaway banner will not scratch as is the case when using vinyl custom banners. The excessive transporting and handling of breakaway banners means that the team's logo and clip art can be scratched reducing the life of your vinyl run through banner.
We use a sublimation printing method which means the ink is fused into the fabric. The graphics on a fabric break through banner will not scratch, allowing you to giving you years of of indoor and outdoor use.
Fabric break through signs can be washed
Another huge advantage of choosing a fabric breakaway banner over a vinyl football run through banner is the ability throw your custom breakaway banner into the wash whenever needed.
Having a nylon or polyester breakaway banner that you can wash between football games opposed to vinyl banners that you can only wash by wiping down by hand can you save you valuable time and work.
Vinyl Breakaway Banner can become brittle and cracked
Vinyl breakaway banner material becomes brittle over time and your vinyl bust through banner will start cracking, especially in really cold weather. If you are going to be using the banner in cold weather you will want to choose a light weight fabric run through banner. Vinyl breakaway banners can be really unforgiving and show creases and wrinkles much more than fabric breakaway banners.
Additional Support Options for Custom Breakaway Banners
When using the larger breakaway banners, you will find you may need additional support. For example, having a football team run through a 10 x 12 breakaway banner being held by the cheer team members will need additional support at the top corners to stabilize the breakaway banner. This is especially important to help hold the breakaway banner during the grand entrance moment when the team bust through the banner.
Sewn in loops vs. Banner Clips
This additional support can be achieved with guide ropes running down from the top corners. We offer FREE reinforced webbing/straps sewn into our top corners of our fabric breakaway banner. While other dealers that offer vinyl run through banners typically offer banner clips.
Unreliable Option
These clips attach to the top corners of the bust through banner and to allow guide ropes, but can be unreliable. These banner clips will also cost you more as they are not included by most dealers. Our re-enforced loops are included in the price and sewn into the breakaway banners.
Cheer Team Approved
Your cheer team members will find our re-enforced loops much easier to work when holding up larger breakaway banners. Our run through banners are lighter and easier to work with compared to the heavy vinyl/PVC breakaway banners offered by other dealers.
Great for Homecoming Games!
Custom run through banners with the team's logo can add excitement while building team pride. Our quality fabric breakaway banners will make other teams take notice, while building team spirit.
Setting Up and Using Personalized Breakaway Banners
Our breakaway banners are extremely easy to set up and use. Layout the two banner pieces of the custom breakaway banner on the ground flat. Attach the hook and loop strips running down the middle of the bust through banner.
Insert Poles
With the breakaway banner halves laying flat and attached in the middle, slide your poles into the two pole pockets. With the banner laying flat, pull poles slightly outward to flatten and straighten the run through banners.
Attach Guide Lines if Needed
On larger football break through banners, you may want to attach guide lines for additional support at the top of the breakaway banner. Depending on the size of the banner you may need one or two guide lines coming from the top of the breakaway sign. Below are examples of using a single or double guide line on our breakaway sign.
Raising Breakaway Banner for Grand Moment
With individuals on each side, slowly raise the break through banner at a even pace. Once the banner is upright, you may need to adjust it. You can tighten it by slowly moving the bottom of the pole outwards on one side, then leaning the top out until it becomes tight.
The Run Through
You are now you are ready for the grand moment!. The individuals holding the banner upright can put their foot on the inside of the pole for additional stability, while holding the pole at about shoulder height. run through sign. If you have people holding guide lines, be sure that they do not pull too much as the top of the banner should stay together for best presentation when the team runs through for the grand entrance moment.
Practice Runs
If possible, you should have the individuals that will be holding the breakaway signs, practice set up and holding of the breakthrough banners before using at football games. Reusable breakaway banners are not hard to use, but the people holding it should be familiar with proper use.
Breakaway Banners Recap
Breakaway Banners are a re great way to increase team pride at a football games or pep rallies. Having your own personalized banners allows you build team spirit and build up to the grand entrance of the of your team busting through the banner and running onto the field.
Big Tex Banners offers bulk discounts for 3 or more breakaway banners.
Our break through banners feature a large 5.5″ Pole Pockets with reinforced loops at the top of each corner on the breakaway banner for support guidelines when needed.
We offer Premium Fabric on our Breakaway Banner instead of heavier PVC vinyl banner material that can be heavier, difficult to store, as well as easier to damage during use.
Dye sublimated full color printing on fabric resist scratching and damaged graphics unlike PVC break through banners.
You May Also Like…