Custom Car Flags! Great fundraising product for schools or youth sports.
Custom Car Flags Wholesale
12″ X 18″ Premium Car Flags
Use our Online Flag Designer or let us design it free of charge!
Quick Turnaround and Delivery!
Double Sided Custom Car Flags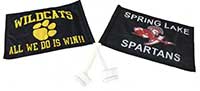 Full Color Custom Car Flags with your club or teams artwork can make a great fundraising product. Double Sided Car Flags w/Block out Layer include a 19.7″ Premium Pole that is rated for Highway Travel. You can design your personalized car window flags in our Online Designer, or let us design it for FREE! Make more money for your school or club with our Custom Car Flags Wholesale Pricing.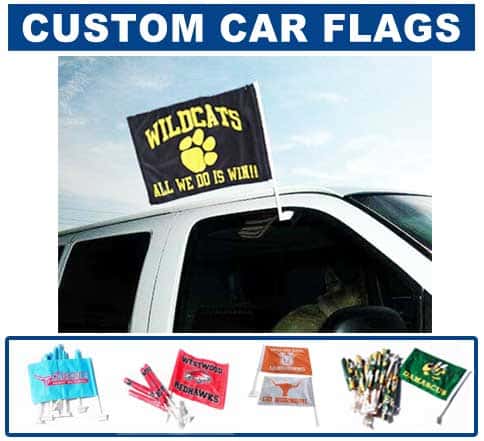 We Accept Purchase Orders from Schools and Non Profits!! Click Here for more information
What Speed Are These Car Flags Rated For?
Our Heavy Duty Car Flag pole can withstand speeds up to 65 mph. Speeds over 60 will greatly reduce the life of the Flag, and over 70 may possibly cause it to fly off your vehicle.
Are There Any Setup or Design Fees?
No the price that is quoted on this page, is the price you will pay, no hidden fees or outrageous shipping charges. The wholesale pricing is all inclusive, no surprises at checkout.
I can't design very well, will you fix my design before it prints?
Your Custom Window Flags will not go into production until you approve the proof we send you. If you do not like the design, simply email back your instructions and we will keep adjusting the proof until you are happy. Once you approve the design your flags will go into production.
What Is The Turnaround Time?
Unlike some dealers that take up to two weeks to produce Custom Car Flags, our production time is 3-5 business days after the design is approved.
Do you accept purchase orders?
Yes, we accept purchase orders from schools and related organizations like PTA and booster clubs. You can submit a request to use a Purchase Order here. Please call 888-849-2749 during regular business hours M-F 9am – 4pm central if you have any questions.
Do you ship custom car flags to Canada?
Yes, and we offer free shipping! The only additional cost will be any Canadian customs fees.
Custom Car Flags Wholesale Pricing
FREE SHIPPING!!!
3 Ways to purchase Personalized Flags
Design and Purchase using our Custom Car Flag Online Designer, Purchase using our Custom Car Flag Design Service or If you are a school , organization associated with a school or a non-profit wanting to purchase Custom Car Flags using a purchase order you can submit your request by clicking below.
---
Pay Later Program
Big Tex Banners offers a Design Now – Pay Later Option

Pick Your Product and Submit A Design or Design Request.
Free Digital Proof via email of the design based on your requirements.
Request Design Changes or Approve.
If you asked for changes, design rep will make changes and send back for review.
If you approve the design, choose payment method.
Your order goes into production.
Color matching available with PMS Color Matching
Giving you piece of mind before your order goes into production.
Get your design set and fine-tuned before you have to pay!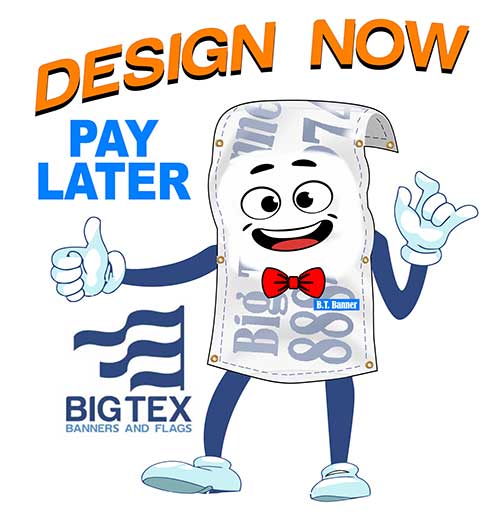 ---
Questions? Browse Some Common Questions We Receive About Car Flags
---
Car Flag Sample
If you would like to see the quality of our car window flags before ordering. We offer a sample flag. These are sent next business day USPS Priority Mail.
Flag Should Arrive In 3-4 Business Days
Sample Car Flag – Includes Shipping $16.00
$16.00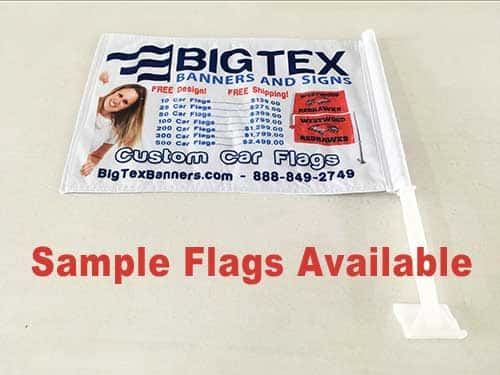 ---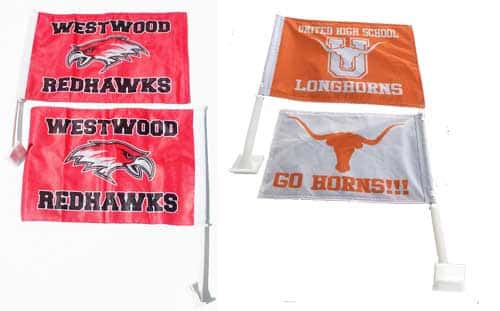 Car Flag Design Template
Car Flag Template-AI (569 downloads)
Car Flag Template-pdf (524 downloads)
All Car Flags are Double Sided
2 ply Double Sided Flag
U.V. Blocker Layer Between Prints
Unique Design For Each Side If Needed
We only offer Double Ply Flags, as we have found single ply flags have trouble holding up to the stress of Highway travel. The flags are sewn together with a blocker layer between them. This layer blocks light from the reverse side that might interfere with the proper display of your flags design. Another advantage to a double ply flag is that it allows you to have a different design on each side if you want.
---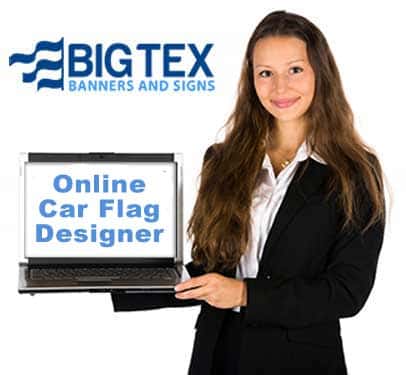 Exact Color Matching
As part of our free design service, we offer free PDF proofing via email. While this ensures the proper layout of your design, it may not always represent exact colors. Computers and phones use an RGB color system. RGB colors on your display will make the colors brighter than they are, and they may print a little lighter than what you see on your screen. We rarely have color issues proofing with RGB, but if you want to ensure that the color matches precisely, we will need PMS/Pantone color codes for the colors in your design.
Please contact us if you have questions or need help with this at 888-849-2749, or contact us here
Custom Flag Designer
Create Your Flag In Our Online Designer
Upload Your Artwork, product photos or Logo.
Choose your own colors and fonts
Create an account and save your designs.
We provide FREE proofs for you to look over before your design goes into production.
Our flag designer allows you to experiment with colors, upload artwork and photos. You will be able to create a banner flag that makes your business stand out.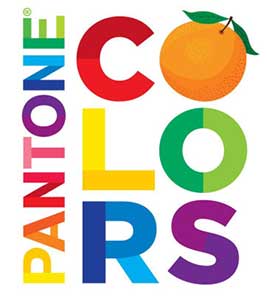 Most Common Uses for Custom Car Flags
Political Car Flags – During the last presidential election, it became popular in some areas to display large flags mounted on the back of trucks and SUVs. Long before this, smaller window flags were commonly used in the same fashion; the smaller version allows any vehicle with a window to display and support their favorite politician or cause.
Fundraising with Custom Car Flags – Custom Car Flags can provide a profitable fundraising product for schools and other non-profits. These portable banners can be customized with school colors and mascots. Custom car flags are easy to store and transport, making them an ideal fundraising product.
Advertising with Custom Car Window Flags at auto dealerships – These clip-on Window Flags can be used to draw attention to vehicles that are on sale, spotlight special features or just use for branding with the dealership logo. Even with the vehicle being parked, these window banners can draw attention with gently movement from a breeze. The customized car window flags can be reused over and over as they are easily installed in seconds, making them a very cost friendly advertising method for an auto sales lot.
Custom Car Flags to show team spirit / celebrate a championship. As noted earlier, when customized with school colors and logos, Car Flags can be a profitable fundraising product. people love to show support for their community and schools! Clip on window banners are mobile, so driving around seeing other members of your community showing spirit/support for a common interest creates unity. This is especially true when a team is in the playoffs or has won a championship. In many cities' team flags are on full display when the local pro sports team has won a championship.
Custom Car Window Flags to show patriotism – One of the oldest most common uses for a flag is of course representing a country. Car window flags are extremely effective for this with them being mobile. At the World Cup, many fans use custom auto banners to show support and patriotism for the team representing their country.
Custom Car Flags to show support for a charitable cause or raise awareness – Clip on window flags can be a great way to spread the word about a worthwhile cause. Once again, the fact that these flags are mobile creates an opportunity to reach scores of people. Custom Car Flags can bring more visibility to your charity.
Whether you are showing support for your favorite team, or political candidate, Custom Car Flags are a great way to show pride or support. They stand out and draw the attention of every passing vehicle, as well as when parked in public. There is a certain feeling of comradery when you pass another vehicle with the same flag as you. That is why in large cities or markets, Auto Flags are usually one of the first items to appear when a team is doing well or has won a championship. They especially make a great fundraiser product that can be sold at games or from Facebook pages or groups. Feel free to contact us with any questions or special request you might have about our car window flags.
---
You May Also Like…