Big Tex Banners offers a wide variety of parade banner poles for carrying parade banners and flags. From deluxe gold finish poles with gold acorn pole ends to economy wood poles for a low cost solution.

Banner Pole Materials and Options
Big Tex Banners several options for carrying a custom parade banner.
Aluminum Parade Banner Poles
We offer quality aluminum parade banner poles with a gold or silver finish. Our aluminum parade poles will enhance the presentation of your parade banner while providing a light but durable way to carry your marching band banner.
Our Deluxe poles are 1-1/8″ in diameter and work nicely with our 3″ pole pockets
Choose capped ends or ornament adapters for our deluxe pole options
Choose 3″ gold or silver finish ball ornaments for our deluxe poles.
Our 1″ standard aluminum poles feature lower pricing and options for a banner width up to 10 ft.
Our Standard Aluminum Poles accept our slip on gold or sliver acorn ornaments instead of cheap white poly ball ends.
What Size Parade Banner Pole will I Need?
Our sales team has worked hard to make shopping for a parade banner pole quick and easy. Simply choose the pole type you want and use the drop down to pick a pole. For your convenience all drop down choices feature the banner size the pole fits. Just match the option to your banner width.
Custom Sizes
We can produce custom sized banner pole if needed. Please contact our sales team here if you have a need for custom sizes or a special request.
Two Section Poles
The aluminum poles we offer for our parade banners will come in one piece for poles 5 ft. and under. For poles over 5ft. we offer two section poles for shipping. Our two section poles also provide a easy storage solution. Our sectional poles feature two easily stored pieces that provide convenience when traveling or storing your pole.
Deluxe Aluminum Poles - Gold or Silver Finish with Endcap or Ball Ornament


Standard Aluminum Poles with acorn slip on ornament


Budget Adjustable PVC/Wood Poles


FREE SHIPPING!! on all Parade Banner Poles


SMALL - Fits 4ft and 5ft Parade Banners

MEDIUM - Fits 6ft and 7ft Parade Banners

LARGE - Fits 6ft and 7ft Parade Banners

---
Shop Parade Banner Poles
1 1/8″ Deluxe Parade Banner Poles
Finish choices include silver mill, or shiny bright-dipped
gold anodized.
End choices include capped, or ornament
adapter (no ornaments).
Two piece poles are coupled together with a solid brass,
precision-machined screw joint.
Poles come complete with flag rings.
Pole length should be determined by leaving 6″ on either end for hand positions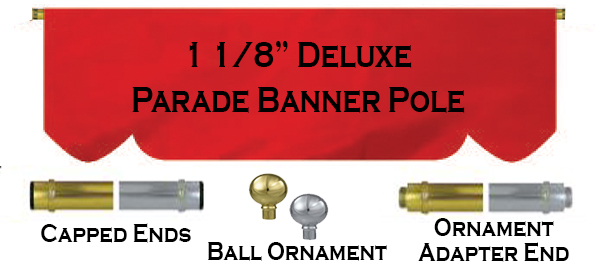 ---
1″ Standard Parade Banner Poles
Finish choices include silver mill, or shiny bright-dipped gold anodized.
Poles come with gold plated plastic acorn ornaments on each end instead of white poly ball ends.
2 piece poles are coupled together with solid brass precision machined screw joint
Poles come complete with flag rings.
Pole length is determined by allowing 2″ on each side for the acorn ornaments and 6″ on each side for hand positions.
Acorn ornaments included, not white poly ball.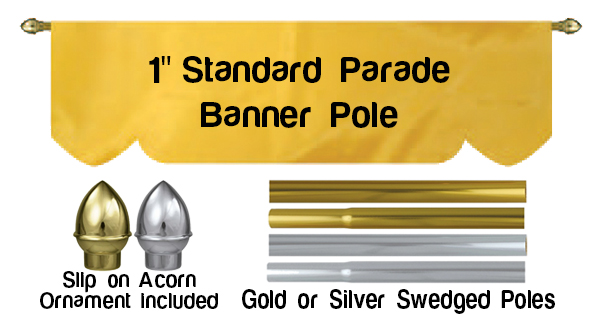 ---
Adjustable Parade Banner Pole
If presentation is a secondary concern, we offer a adjustable parade pole that focuses on practicality and value. Our adjustable pole features a PVC body with adjustable wood arms with rubber grips. The arms can be adjusted to comfortable widths for easier carrying of your parade banner.
Easy Storage
Easy Assembly
Rubber Hand Grips
Adjustable Length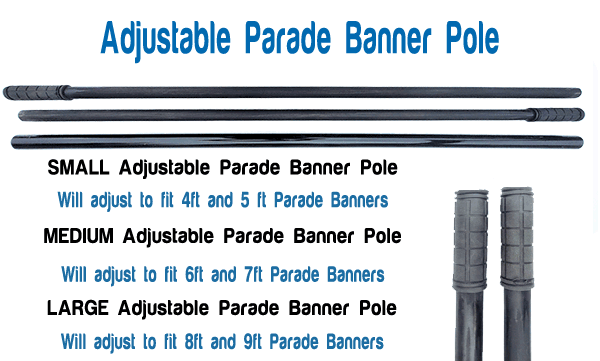 ---
Related Items – Need a parade flag pole?
If you will be using flags with in your next event, we can provide options for a parade flag pole and custom flags for your next parade. Click here for parade flag options