Custom Garden Flags Wholesale
Personalized Garden Flags are the perfect way to show your personality in your yard or garden! With so many different designs and colors to choose from, you're sure to find the perfect flag for you. Whether you're looking for a flag to show support for your favorite school team or student. Custom Garden Flags The only limitation is your imagination! Our full color yard flags can add a personal touch your yard or garden!
Double Sided Yard Flags – Customize Each Side
Printed with U.V. Resistant Inks
Size – 12″ x18″ Material – Polyester 3 Layers
FREE Design and Shipping
Full Color – No Per Color Charge
Available With or Without Hardware
Pricing for flag only 5-9 $19.95 / 10-19 $16.95 / 20-49 $13.95 / 50-99 $8.95 / 100+ $7.95
Pricing with Pole 5-9 $24.95 /10-19 $21.95 / 20-49 $18.95 / 50-99 $13.95 / 100+ $12.50
---
Personalized Garden Flag FAQ
What size are garden flags?
The standard size of the average Garden flag is 12″ x 18″
Will my Yard Flag Fade?
All material will fade over time, we print our yard flags with U.V resistant inks to combat fading.
What Material are Garden Flags Made of?
Most yard flags are printed on polyester or nylon, as these material hold up well outdoors.
Can I put a Photo on my Personalized Garden Flag?
Yes, pricing includes full color printing at no additional charge.
Can I get bulk pricing on personalized yard flags
Yes, our bulk pricing kicks in on 5 or more flags.
Can I submit more than one design and still get wholesale pricing?
Yes, pricing is based on quantities with no limit on designs.
Can I personalize each side of the garden flag with a different design?
Yes, you can submit a design for each side.
Garden Flags – Custom
Using the button below will give you 3 options for getting started.
Free Design Service – Submit your design requirements and images and receive a proof.
Submit design and purchase – This option allows you to submit a design ask for quote or purchase.
Design Now / Online Designer – This option takes you to our online designer so you can create a personalized yard flag.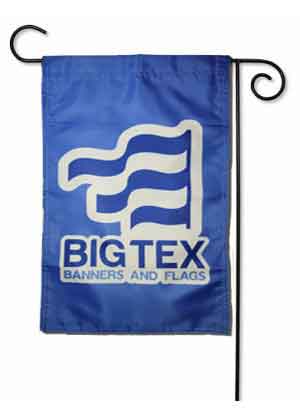 ---
Great Fundraiser Product!
Personalized garden flags combined with our wholesale pricing make for a great fundraising drive. These personalized yard flags are a great way to show support for students and athletes.
Grandparents, and relatives will be proud to display these eye catching garden flags. Each yard flag can be personalized with player numbers, team color, and school mascots.
Big Tex Banners and Flags can help you with fundraising tools to increase sales and get the best price for your team or organization.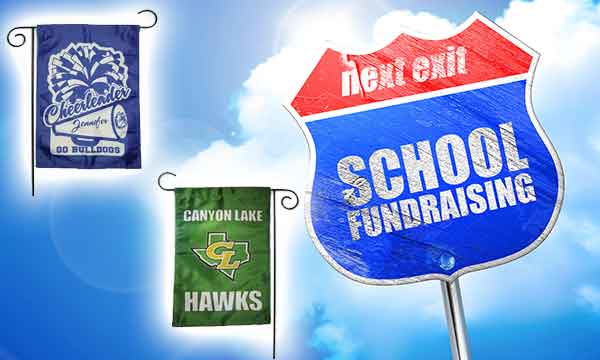 Can produce a custom order sheet with desired design so you can take orders from other parents or teammates.
NEW – Can create an online sale page with a link you can share with others to increase sales of your personalized garden flags. You can call us at 888-849-2749 or contact us here to discuss these options.
Personalized Garden Flags offer a huge range of design ideas!
Graduations
School Athletics
Club Affiliations
In Memory of
Family Welcome
Holidays
"It's A Boy" or "Its a Girl" with babies name and photo
"Welcome to our Home" with family name
The list Goes on as there is no shortage of applications for Personalized Garden Flags.
3 Tips for Creating an awesome Personalized Garden Flag
DON'T use low resolution images from the internet.
DO use images and photos that are at least 150 DPI
Do find out the Pantone number of any colors you would like to match. We can offer color matching using Pantone color codes. You can find more info here about Pantone Colors. As far as finding these color specs, sometimes it can be as easy as checking with various school departments. If you do not have the specs, we can help you establish them for color matching.
Download Custom Garden Flag Templates Below