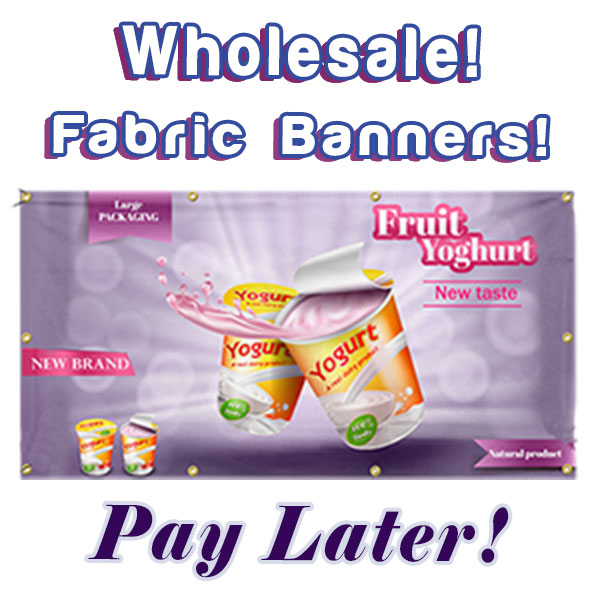 Custom Cloth Banners
Fabric Banners printed on Polyester fabric with UV resistant inks, hemmed, and mounting grommets installed. We offer wholesale fabric banners shipped fast and FREE! When you need a classier way to deliver your message than a vinyl banner, quality polyester banners can deliver!
FREE SHIPPING for orders over $100.00!
Low Bulk Pricing on Custom Fabric Banners
Polyester Banners Printed with U.V resistant inks.
Use our Online Designer or we can design it free of charge!
Quality Wrinkle Resistant 110 gram polyester banner material.

Quick Turnaround and Delivery – FREE Shipping on orders over $100
---
No Hassle Pricing
Please Round up to Nearest Foot.
Please Round up to Nearest Foot.
$17.00 Flat Rate Shipping on orders under $100.00
FREE Shipping for over $100
FREE Design Help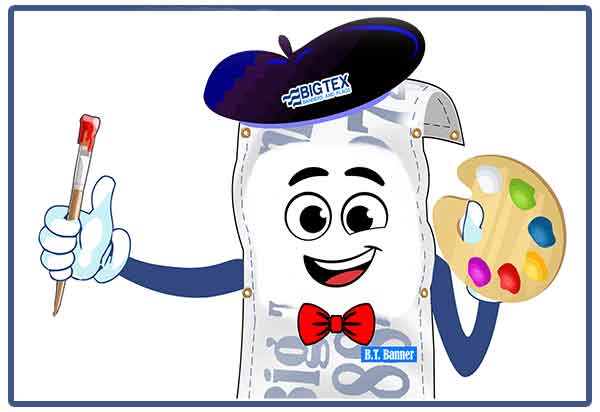 If want us to Design it for you free of charge call us at 888-849-2749 or contact us here, or use our online design center.
To Get Started Choose One of the Three Options Below
Use Our Free Design Service
Submit your design requirements and let us put together a Proof for you.
Proof Via Email
Request Changes
Submit Now – Pay Later
Personalized Service
Use Our Online Designer
Upload logos, choose fonts and colors.
No need to be perfect, submit your basic design and we will fine tune and send proof.
Submit your design for quote, Pay Later
Request changes until design is where you want.
Upload Design / Check Out
Use this option if you have a design in our designer, just enter design number in order comments.
Use this option if you already have a design to submit.
Use this option if you have been working with one of our designers.
---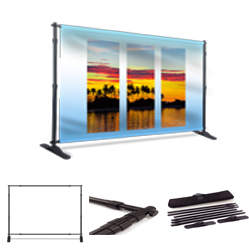 Looking for Fabric Backdrop?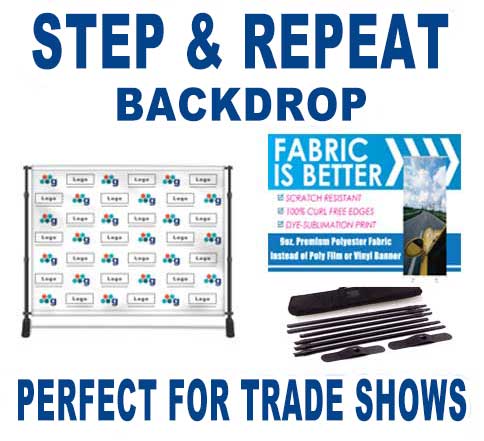 ---
Fabric Banners FAQ
What material is used for fabric banners?
We print our cloth banners on a wrinkle resistant 110g Knitted Polyester that produces vibrant and clear prints. If your project requires a different type material, we off a wide range of fabric weights/types. You can fine more info here
Can I machine wash my banner?
Yes! you can wash your banner using the Gentle Cycle on your washer, and dry using delicate setting on your dryer.

Do you offer pole pockets and Velcro upgrades on your custom fabric banners?
Yes! We can offer customized finishing options for your custom fabric banner that include custom shapes, sizes and mounting options.
Can I see a proof of my cloth banner before I pay?
Sure! We offer Design First Pay Later on all custom cloth banners. This means you will be able to see a proof before your order goes into production. Your order doesn't print until you approve your design!
Do you offer Double Sided Fabric Banners?
Yes, we offer do offer a double sided option with a blocker layer in between the prints.
Do you offer a Duplex Printing option for double sided fabric banners?
Yes, you can upgrade to our Duplex Printing option that allows for a single layer double sided print. You can find more info here on Duplex Printing.

Are your Polyester Banners rated for outdoor use?
Yes, our fabric hanging banners are printed on polyester with U.V Resistant inks, this allows them to be displayed outdoors. If you are looking at a long term outdoors, you may want to consider a PVC Banner.

---
Create Your Personalized Fabric Banners in our Online Designer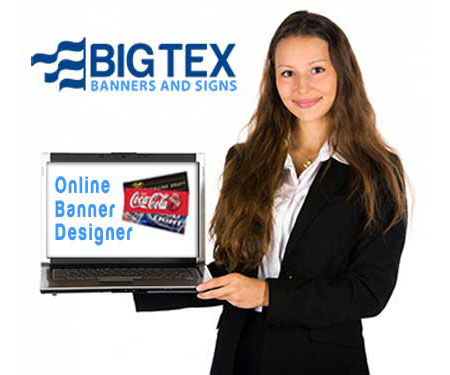 Fully Personalize Your Custom Polyester Banner In Our Online Designer
Submit with your message, images, colors or logo.
Use your custom colors and fonts
Create an account and save your custom fabric banner designs.
Completely personalize fabric banners for your product, service, or event. Our online designer allows you to choose colors and Fonts as well as upload artwork and pictures. Everything you need to create a personalized banner that delivers your message. If you would like us to design your banner give us a call at 888-849-2749, or contact us here. We can use our years of experience to create a cloth banner that fits your needs. Be sure to check out our design tips and FAQ's for useful information about creating your personalized fabric banner.
---
Cloth Church Banners / Liturgical Banners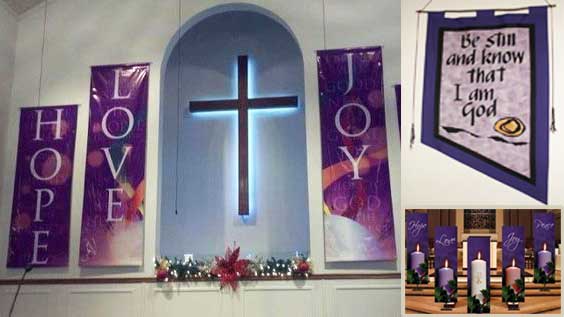 Fabric banners for your Church
We can produce breath taking cloth church banners customized with your inspirational message or images for your place of worship. If you need help designing your we can work with you to design an inspirational design.
Liturgical Banners for every Season
We can produce fabric banners for any of the Liturgical Seasons – Epiphany, Lent, Holy Week, Easter, Pentecost, Time of the Church or Ordinary Time, Advent, and Christmas.
Polyester Banner Material
Durable Construction and Excellent Print Quality!
Our standard fabric banner is printed on 110g Knitted Polyester which provides good protection for indoor or outdoor use. If you need a custom weight or thickness we offer several options including
800D Linen Polyester
210D Oxford
130G Shiny Knitted Polyester
120G Mesh Polyester
Satin
600D Tarpaulin
These are just a few of the options we offer! Contact Us if you like to discuss your project and options.
Vivid Colors and Double Stitched Hems

---
Fabric Banners vs. Vinyl Scrim
Custom Fabric Banners possess all of the promotional benefits of vinyl scrim with some important differences. Below you will find some of the biggest advantages polyester banners have over vinyl banners.
Can Be washed in a standard washing machine. When it comes to drying, a standard home clothes dryer set on the gentle cycle will get the job done.
Scratch proof – The print on Vinyl scrim can be scratched and damaged. This is not the case with polyester. You can not damage the design on a custom fabric banner by scratching or rubbing it against something like vinyl scrim.
Fabric Banners are much easier to store and transport compared to vinyl. Some large Vinyl Banners can be hard to roll up and store. A cloth banner will fold up neatly and weighs much less than vinyl banner material.
Fabric Banner Printing has advanced to the point that polyester banners display graphics and colors much better than vinyl.
Fabric offers less light reflection than vinyl substrates.
Custom Fabric Banner Finishing Options
Hems – All fabric banners offered by Big Tex Banners feature double stitched hems on all sides creating a clean and professional edge that accentuate your design.
Grommets – The most common finishing option, standard spacing is approximately every 24″ on all sides. Big Tex Banners can accommodate custom spacing of grommets if needed. You can specify in order details or Contact Us after placing your Fabric Banner order.
Hook & Latch (Velcro type) – A popular finishing option for indoor use, we offer both 1″ and 2″ Hook and Latch (Velcro type) strips sewn on the backside along the outer edge of the banners. You can request either the hook or the latch to be installed on custom fabric banners.
Pay Later Program
Big Tex Banners offers a Design First – Pay Later Option.

Pick Your Product and Submit A Design or Design Request.
Free Digital Proof via email based on your requirements.
Request Changes or Approve.
If you asked for changes, a rep will make changes and send back for review.
If you approve the design, choose payment method.
Your order goers into production.
Color matching available with PMS Color Matching
Giving you piece of mind before your order goes into production.
Get your design set and fine-tuned before you have to pay!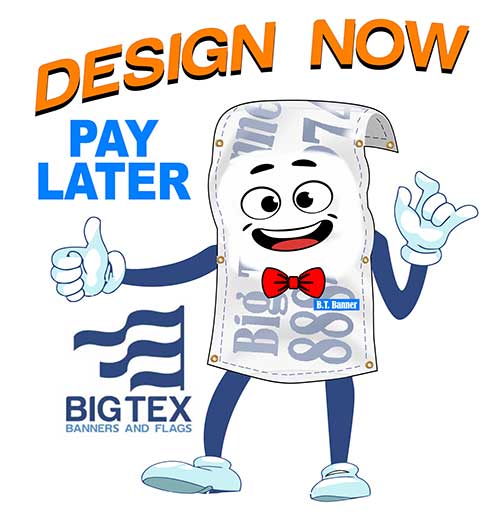 Wholesale Fabric Banners
Save with Bulk Pricing on Polyester Banners
More than 500 square foot? Contact us for even bigger discounts!
You May Also Like…