Big Tex Banners and Flags offer both vinyl and printed fabric parade banners for your business or organization. We offer full color digitally printed parade banners with FREE design service.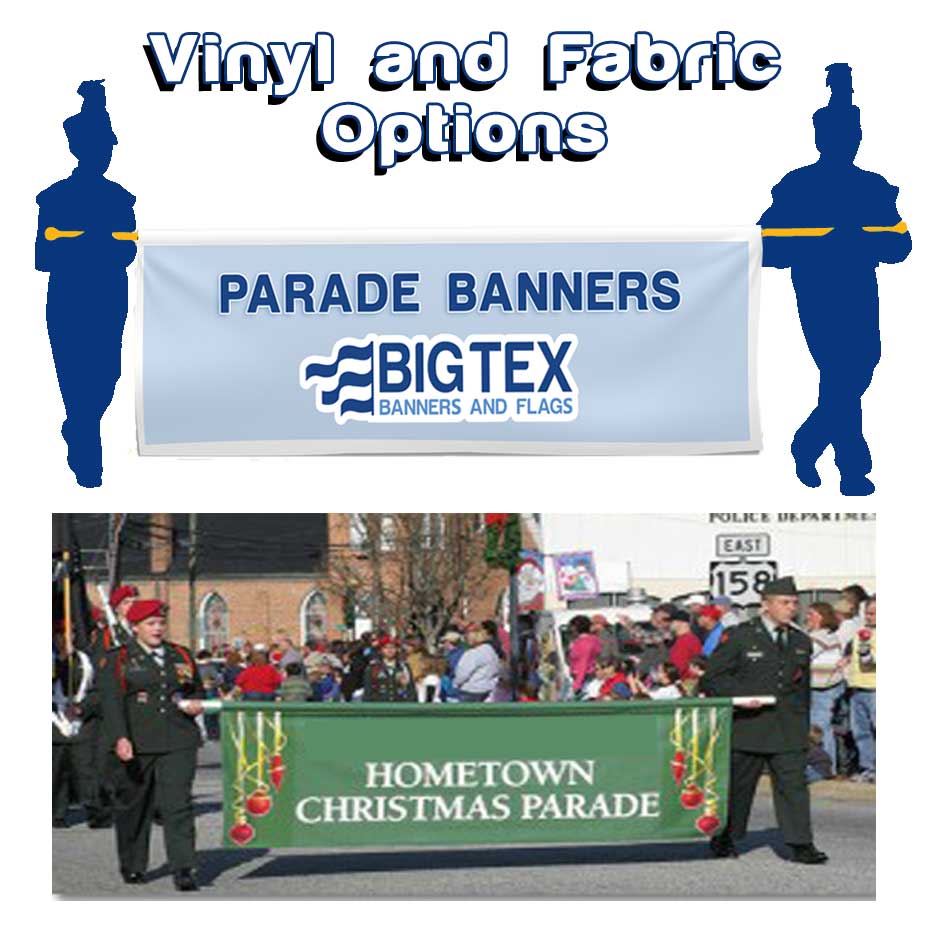 Custom Parade Banners
Parades are a fantastic way to showcase your business or organization to your community. Make sure your company or Group stands out from the crowd your next parade with custom artwork and graphics. Big Tex Banners can help you create a beautifully designed parade banner with your logo for your next event.
Digitally printed in full color from your file or design.
Choose between either Vinyl or Fabric material for your custom Parade Banner.
We offer all the standard Parade Banners sizes as well as the option for any custom size you may need.
We offer the standard banner shape or choose from a variety of scalloped shapes.
Fast Turnaround! Next Business Day Delivery on Vinyl Marching band Banners. More Info Here. Parade Banners
---
What is the standard Parade Banner size?
Most Parade banners are usually 30″ in height, and 6ft in wide. 8ft, and 10 ft are also popular widths as well as a 36″ Height.
How fast can I get a Parade Banner?
We offer a next day delivery option on standard vinyl banners. For a full color fabric marching band banner, usually arrives in 7-10 days.
What kind of pole should I use for my Parade Banner?
There is a wide variety of pole options used for carrying a parade banner. Can be as simple as PVC pipe for a cheap option, or a deluxe banner frame that cost several hundred dollars.
What size pole should be used to carry a parade banner?
1″ will work for almost all standard sizes, but for wider, marching band style banners 1 1/8″ may be necessary. We can create special sized pole pockets if needed.
What is the size are the pole pockets on a
school parade banner?
Most school marching band banners feature a 3″ Pole pocket on top. This size pole pocket will accommodate a pole size up to 1 1/4″ .
What is a scalloped edge on a Parade Banner?
A scalloped edge on a banner means the bottom of the marching band' banner has a unique shape and style.
Why are there pole pockets on top and bottom of the banner?
Of course the top pole pocket is used to carry to banner, the bottom pole pocket is so you can slide another pole in to use as a weight to reduce banner movement and hang properly in windy conditions.
Do you offer Quantity Discounts on Custom Parade Banners?
Yes, if you need more than three parade banners printed, we can offer special discounts. Contact us for details.
Why are there pole pockets on top and bottom of the banner?
Of course the top pole pocket is used to carry to banner, the bottom pole pocket is so you can slide another pole in to use as a weight to reduce banner movement and hang properly in windy conditions.
Parade Banner Sizes and Pricing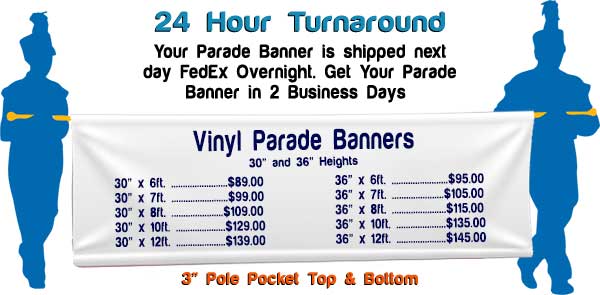 ---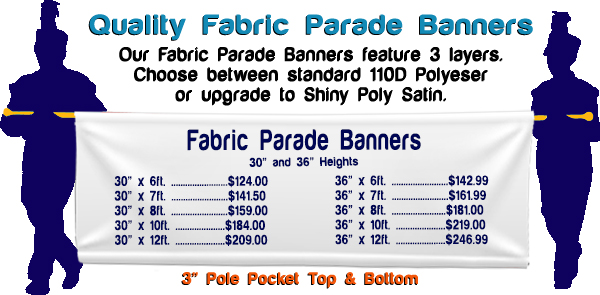 Download your rectangle parade banner template below
Rectangle Parade Banner Template-AI (247 downloads)
---
Rectangle Parade Banner Template-PDF (135 downloads)
---
Parade Banner Poles
Deluxe Aluminum Poles - Gold or Silver Finish with Endcap or Ball Ornament


Standard Aluminum Poles with acorn slip on ornament


Budget Adjustable PVC/Wood Poles


FREE SHIPPING!! on all Parade Banner Poles


SMALL - Fits 4ft and 5ft Parade Banners

MEDIUM - Fits 6ft and 7ft Parade Banners

LARGE - Fits 6ft and 7ft Parade Banners
Variety of Decorative Pole Options
Big Tex Banners offers a wide selection of marching band poles to carry and hang a wide range of custom banner sizes. We can add a custom pole pocket size to accommodate any size pole as well as custom installation of grommets.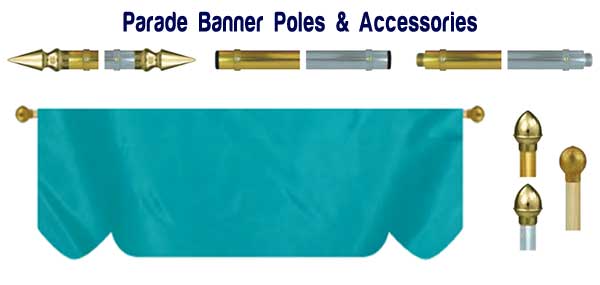 Click Here to Purchase our Parade banner poles
Choose from high end poles, accessories & hardware to make your custom parade banner stand out.
Deluxe 1-1/8″ Aluminum Parade Banner Poles
Add Ornamental Pole Caps to our Deluxe and Standard Poles
Silver or Gold Finish Options
Adjustable Parade Banner Poles
FREE Shipping on all Parade Banner Poles
---
Next Day Parade Banners
If you are needing a custom parade banner really fast, we offer same day shipping for our Vinyl Parade Banners.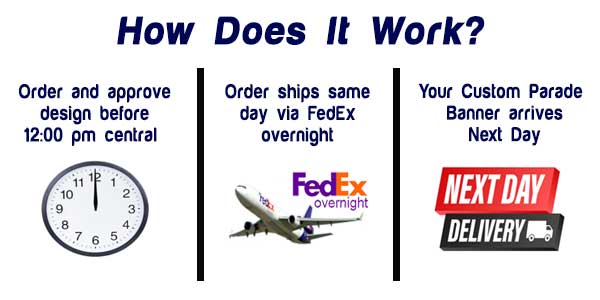 If you need us to ship a banner today, use our Next Day Parade Banner option, call us or contact us here.
Remember the order needs to be finalized before 12:00 noon Central Time for same business day shipping. Please note that additional charges apply to same business day shipping of banners.
---
Scalloped Edge Parade Banners
Big Tex Banners offers a variety of unique banner shapes that can add a touch of class to any marching banner. This is especially true when you add fringe or tassels to your custom parade banners. You can click on the image of any of the designs below to personalize in our store with our online designer. Upload your image files and customize your design. We can produce most shapes, contact us if you have a unique design you need us to print contact us or submit file here.
Ordering Scalloped Edged Parade Banners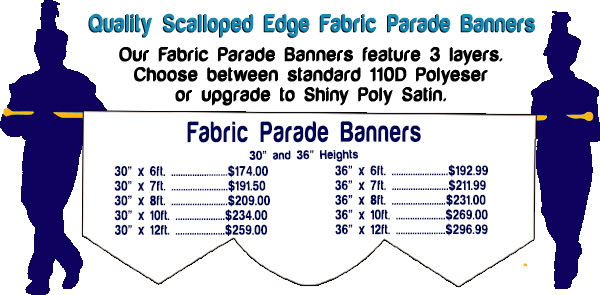 ---
Downloadable Parade Banner Templates
Below are the details of our downloadable Parade Banner design templates for graphic designers. You can use the blank template below to put together custom banners on your computer using your favorite design software. Once you finish your design with your art, just use our blank template upload during checkout to submit your file.
File Types Accepted – AI, PDF, JPG, PNG, EPS
---
---
Buying Custom Parade Banners
When buying a custom marching banners for parades, there are many choices besides price to consider when placing a website custom order. When you get to the checkout page, upload your file with any special instructions like grommets or custom pole pockets.
Choosing the right size banner size
The most common heights for custom parade banners is 24″ and 30″. Here are some helpful guidelines that can help you choose the right size marching band banner for your next event.
Designing Custom Banners for a Parades
There are some guidelines to follow in order to get a good print. Remember your parade banner are basically signs advertising your business, school, or organization. So it is important to create a custom banners that showcase your business.
Artwork
The artwork you use for your design should be high resolution art. A minimum of 150 dpi graphics should be used to ensure print quality.
Resolution
Never use a low resolution image or pictures from the internet for custom prints. Using these images will create a blurry print quality.
Branding
You should also be sure to display your business or school logo prominently on your parade banner as well as contact info for best results.
Be Aware of Finishing
When designing it is best to keep your design at least 3″ from top and bottom to allow for the 3″ pole pockets. Also be aware of any grommets when designing.
Why Big Tex Banners is your best choice for a custom parade banners.
FREE Design Service – Let our graphic designers design your custom parade banner free of charge. If you already have a design file, simply upload your digital file and receive a FREE digital proof before purchasing.
Quantity Discounts on large orders. Big Tex Banners offers wholesale discounts on orders with a quantity of 3 or more.
When shopping for the best price, be sure to choose a dealer that offers free design and no set up fees.
FREE Digital Proof, request changes if needed. We will make the changes and send another proof. You don't pay until your design is where you want it with our Design Now-Pay Later Option.
Multiple finishing options including tassels, grommets, and scalloping.
FREE Shipping on orders over $100
Rush Service Available – Same day shipping, receive your banner next business day.
Customize your parade banner in our online designer
Big Tex Banners can provide custom parade banners that you will display with pride for years to come.