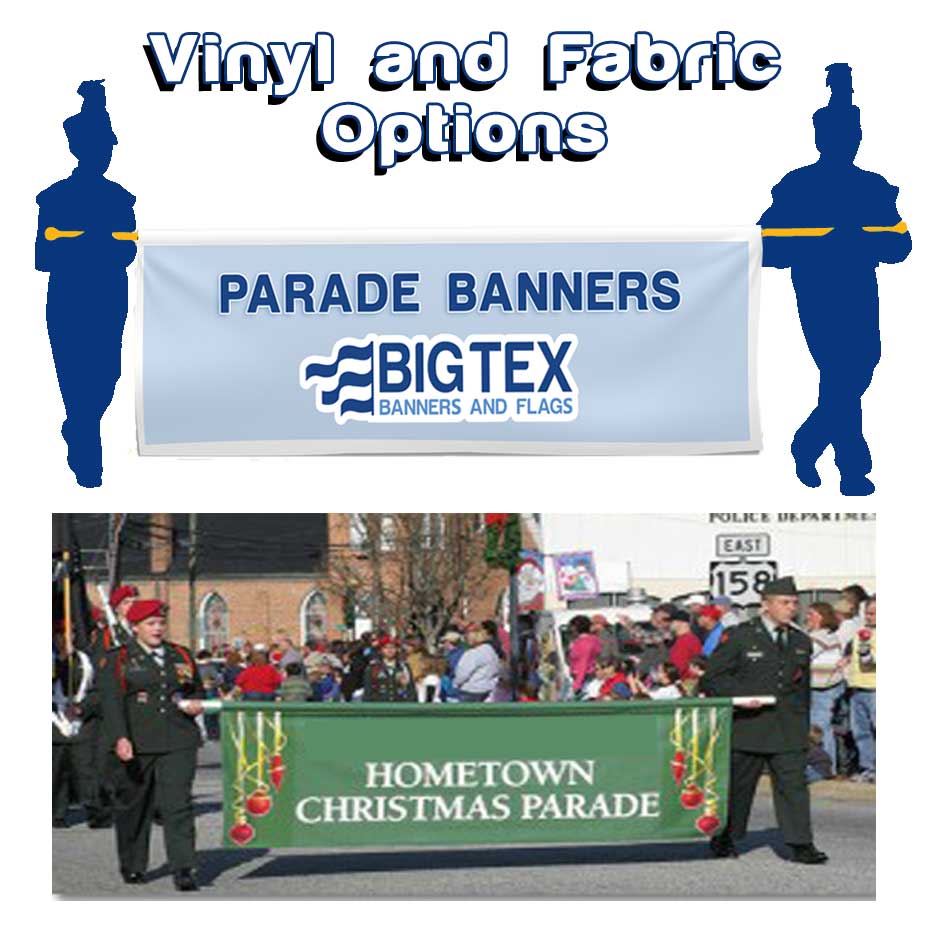 Custom Parade Banners
Big Tex Banners and Flags offer both vinyl and fabric parade banners.
Make sure your organization or Group stands out from the crowd with a beautifully designed parade banner.
Choose between either Vinyl or Fabric for your custom Parade Banner.
We offer all the standard Parade Banners sizes as well as the option for any custom size you may need.
We offer the standard parade banner shape or choose from a variety of scalloped shapes.
Add a touch of class to your banner with colored fringe. We offer a wide variety of colors to choose from.
Fast Turnaround! Next Day Delivery on Vinyl Parade Banners. More Info Here.
---
What is the standard Parade Banner size?
Most Parade banners are usually 30″ in height, and 6ft in width. 8ft, and 10 ft are also popular widths as well as a 36″ Height.
How fast can I get a Parade Banner?
We offer a next day delivery option on standard vinyl parade banners. For a fabric marching banner, delivery is usually 7-10 days.
What kind of pole should I use for my Parade Banner?
There is a wide variety of pole options used for carrying a parade banner. Can be as simple as PVC pipe for a cheap option, or a deluxe banner frame that cost several hundred dollars.
What size pole should be used for
carrying a parade banner?
This depends on the width of the banner you are carrying. 1″ will work for almost all standard sizes, but for wider marching banners 1 1/8″ may be necessary.
What is the size of the pole pocket on a parade banner?
Most Parade banners feature a 3″ Pole pocket on top. This size pole pocket will accommodate a pole size up to 1 1/4″
What is a scalloped edge on a Parade Banner?
A scalloped edge on a banner means the bottom edge of the marching banner has a unique shape.
Parade Banner Sizes and Pricing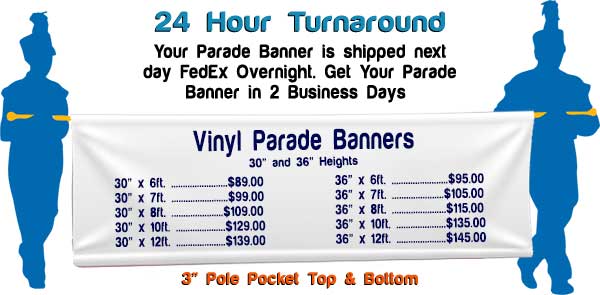 ---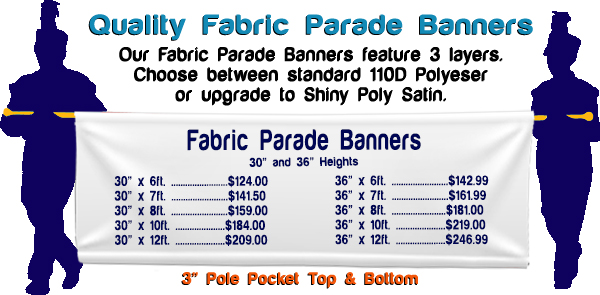 ---
Next Day Parade Banners
If you are needing a custom parade banner really fast, we offer same day shipping for our Vinyl Parade Banners.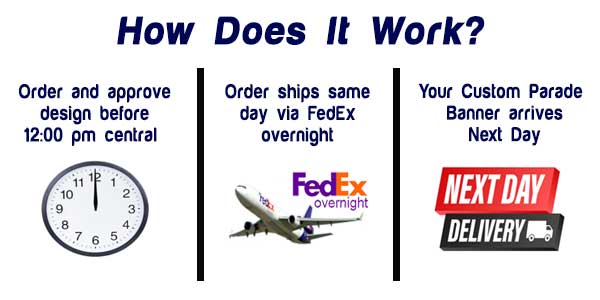 If you need to use our Next Day Parade Banner option, call us or contact us here. Remember the order needs to be finalized before 12:00 noon Central Time for same day shipping. Please note that additional charges apply to same day shipping of banners.
Parade Banner Poles
Big Tex Banners offers a variety of parade banner poles for carrying and displaying a wide range of parade banner sizes.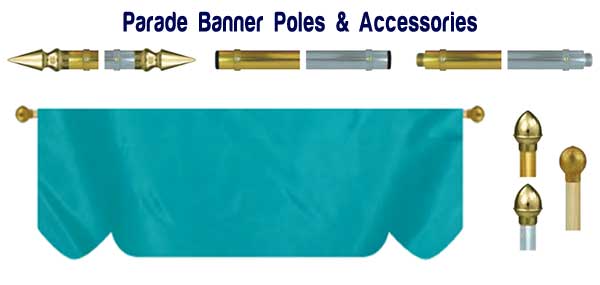 Choose from high end poles & hardware if you regularly participate in parades. Or you can simply use 1″ PVC pipe from Home Depot if you are going to only need a pole for one time use.
---
Scalloped Edge Parade Banners
Big Tex Banners offers a variety of unique banner shapes that can add a touch of class to any marching banner. This is especially true when you add fringe or tassels to your banner. You can click on any of the designs below to personalize in our online designer. We can produce most shapes, contact us if you have a unique design you need us to produce contact us .
Ordering Scalloped Edged Parade Banners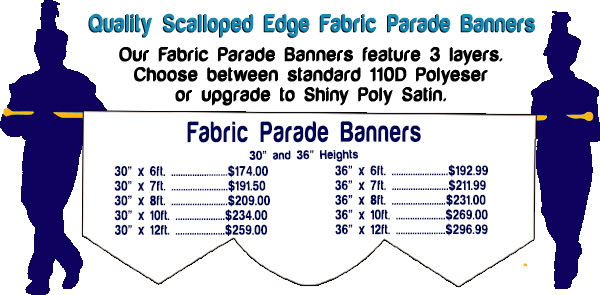 ---
Downloadable Parade Banner Templates
Below are our downloadable Parade Banner design templates. You can use the template to put together using your favorite design software.
---