Custom Feather Flags can be a great way to attract attention to your business. However, did you know that they can also help build brand awareness? The truth of the matter is that custom flags are one of the best ways to have your brand seen by the public. This article will look at how feather banners can help build brand awareness, which is vital to a business.


To keep it simple without going into depth and turning this into a course on marketing and advertising. Brand Awareness is prospects being able to recognize and associate your brand with a product or service. Brand awareness can be an essential part of your marketing. Research has indicated that-
Businesses with more brand awareness grow faster.
Consumers have shown a preference for high awareness brands despite price or even quality.
There is a strong correlation between Brand Awareness and customer loyalty.
While the benefits of brand awareness are many, it is surprising how many business owners do not understand how important it is. Knowing this and building brand awareness can put you ahead of your competition. This is where Custom Feather Flags come in!

Custom Feather Flags vs. Pre-Printed Stock Flag
While they are less expensive and easier to buy, Pre-Printed Advertising Banners offer very little when it comes to building brand awareness. They can advertise your product or service, but they won't separate you from your competition and create familiarity with prospective customers.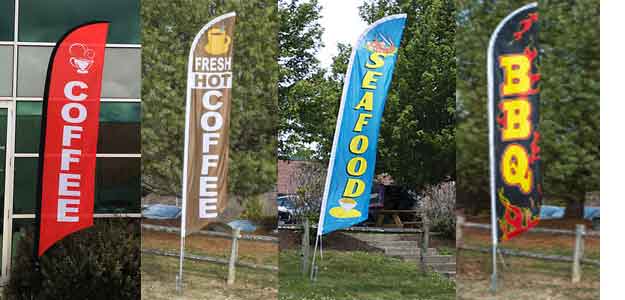 Generic stock Flags draw attention but do little to build brand recognition
Custom Feather Flags & Brand Awareness
When you take into account the bright colors, towering height, and motion, there is no doubt a Banner Flag draws attention. This is why they are perfect for expanding your companies brand awareness. Feather Banners are set up along roadsides to attract the attention of passing traffic. The high visibility presents a chance to display your logo, colors, and product or service daily.
The Importance of Consistency When Presenting Your Brand
Most large corporations have strict guidelines for using and displaying their brand. For best results, you should maintain a consistent use and display of your branding. This means stay within your color scheme and do not allow changes to your logo or slogans.
Designing Your Custom Feather Flags to Build Brand Awareness
Here are some helpful guidelines to use while designing your custom flags. These design tips can help with building your brand with Advertising Flags

Always include your logo on your advertising flag
Logo – Your business logo is only part of building your brand, but plays an important role. Be sure to include your logo when designing your feather banners. Displaying it at the top or bottom of the design are popular options. Using the whole flag for displaying your logo is useful as well, but you will need to include feather banners with your product or service. Some businesses alternate a brand flag with a service/product flag effectively.
Colors- A color scheme is also crucial to branding. Colors can convey emotions, feelings, or even experiences. When designing your advertising, stay true to the color scheme you have chosen for your branding/business. If you do not have a color scheme, you should pick one. You can find information on the internet explaining the relationship between colors and branding. Pick a color scheme that conveys the right impression for your business and stay with it.
Services or Products- It is pointless if people recognize your branding but know nothing about your product or service. When designing your flags, include your service or product in the design when possible.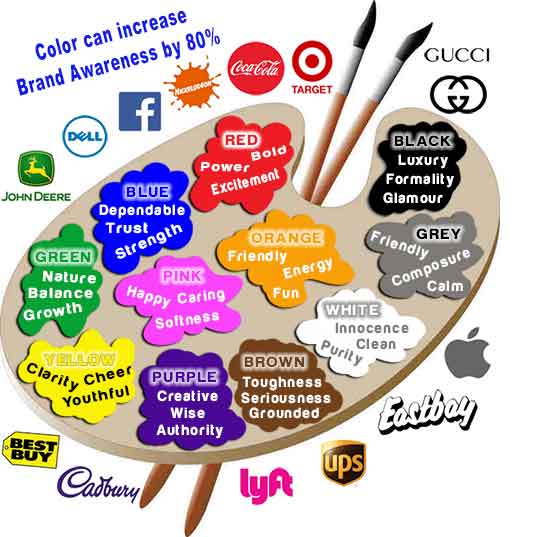 With your logo at top or bottom, you can display your service or product on the rest of the flag

When you use these three- Logo, Brand Colors, and Product or Service in the design of your Custom Advertising Flags, you get an effective way to build brand awareness among your prospects.
However, properly building brand awareness for your business will take a broad approach. You will need to be consistent with planning with your advertising, customer service, and reliability. If you are not currently working to build brand awareness, you should start. You will find all kinds of helpful information on branding and brand awareness online. Even the smallest of businesses can benefit from building brand awareness, and Custom Feather Flags can help.