Who doesn't like a good deal?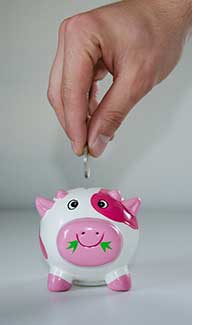 When trying to stretch your advertising dollar, you usually try to shop for the best price. This is especially true with advertising products such as feather banners. While everyone would like to get their Feather Flags Cheap, nobody wants a cheaply made flag.

While most dealers will offer good value on their Feather Flag sets, it can help to be knowledgeable about what to look for in a Feather Flag Set. Knowing can assure you that you get the best value for your money and choose the best option to meet your needs.
When shopping for pre-printed stock flags, you will find that the options are limited when it comes to hardware and poles. If you are going to buy customized Feather Flags, you will have more choices when it comes to mounts and poles.
Ground Stake –
If you are planning on displaying your Custom Feather Flag outdoors, you will probably need a ground stake to install your banner flag. The two most common ground stakes feature an option with ball bearings and another that holds the flag with a stationary cup.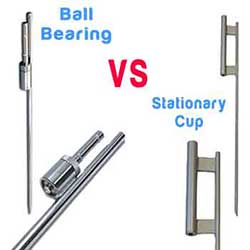 Ball Bearing Type Ground Stake–
This ground stake features a mounting pin with a bearing that allows the flag to turn with the wind. The helps prevent the flag from wrapping around the pole and reduce wear on the custom flag. These ground stakes are primarily used with the fiberglass feather flag pole.
Stationary Cup Type Ground Stake-
This ground stake features a cup type receptacle that does not move. The flag pole base slides into the cup. This type of ground stake makes it more difficult for the flag to turn with the wind. One advantage of this type of ground spike is durability. Being one piece, it tends to be more durable than the ball bearing type. These ground stakes are primarily used with the aluminum feather flag pole.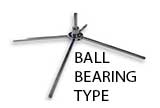 X-Mount –
The X-mount is the hardware that most people choose for the indoor display of their Feather Banner. You can find the same basic variations as with the ground stake, stationary or with bearings.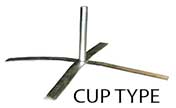 Feather Flag Pole Comparison – Fiberglass vs. Aluminum –
There are two basic feather flag pole types, Aluminum or Fiberglass. Both have advantages and disadvantages.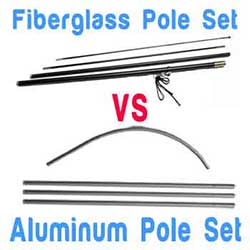 Aluminum Feather Flag Pole –
While the aluminum pole provides a rigid display option, it can be a little bulky and less compact than the fiberglass feather flag pole. With one of the pole sections having a curved shape for the top of the flag, transport requires more space than the fiberglass pole set. The coupling or joining of the poles is accomplished with the poles sliding inside of each other. The female connection has dimples that stop the smaller pole from sliding too far. One disadvantage to the dimples is they can become worn down, allowing the pole sections to collapse inside of each other.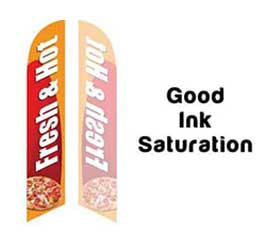 Ink Saturation/Penetration –
When printing Feather Flags, the flag maker can control the amount of ink used, also known as saturation / penetration. The saturation relates to how much of your design will show through on a single-sided feather flag. The higher the penetration, the better. While most feather flag dealers provide good ink saturation, some dealers will cut cost by reducing ink saturation.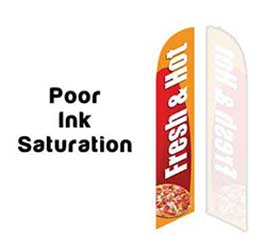 Secondary/Hidden Fees –
While cutting a few corners can create a "Good Deal" on a cheap flag set, there are other ways for a flag dealer to make a good deal cost more in the end.
Set Up Fees-
Some dealers will add a setup fee at checkout. Because most feather flags are digitally printed, in most cases is no need for setup fees. Yes, dealers are free to charge anything they want, but if they charge a setup fee, there is a chance that this is just a way to pad the price on the back end.
There is nothing wrong with wanting a good deal, but the best deal is not always the lowest price.