911 Address Signs
Reflective 911 Address Signs Available in Reflective Green, Blue or Brown. Make sure emergency responders can find your home day or night.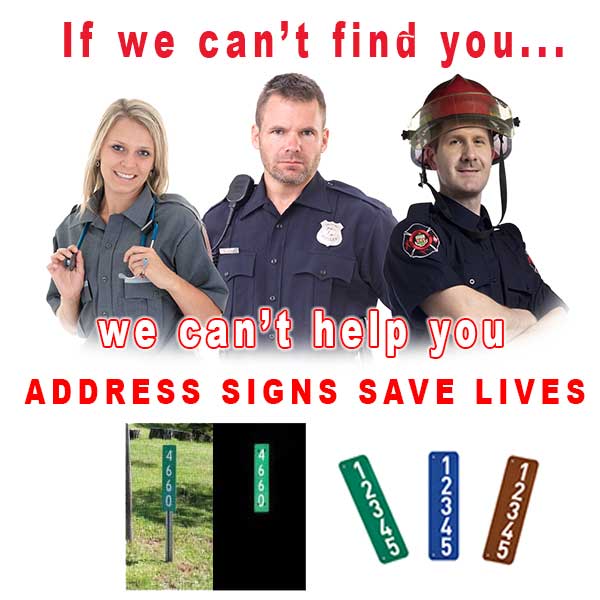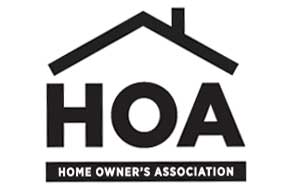 911 Reflective Address Signs
Reflective 911 Address Sign helps emergency responders to find your home day or night when seconds can make difference. Signs available in reflective green, blue or brown. Several mounting options for our 911 Address signs
IF YOU ARE IN COMAL COUNTY CLICK HERE FOR OUR SISTER SITE
Current Turnaround – 1 Business Day
What Color is a 911 Address Sign?
The most common color choices are Green, Blue and Brown.
Which color is best for a reflective address sign?
Primarily depends on placement and surrounding vegetation and buildings. For example a green address sign might blend with surrounding vegetation, where a blue address might stand out better. Try to choose a sign that will create the most contrast with it's surroundings. Some Hoa's in Comal County You can find a explanation here.
What is a Reflective address sign?
A reflective address sign is a sign placed out by the main road if front of your home. The numbers and sign face are made of reflective vinyl that makes them highly visible at night. This makes it much easier for emergency responders, as well as visitors to find and read your address.
Are you located in Comal County?
Yes, all 911 Address signs are produced in the Canyon Lake area. We can deliver and install address signs if needed to any of the surrounding areas of New Braunfels, Spring Branch, and Bulverde.
Do you offer Shipping?
Yes, we offer flat rate shipping of your custom address sign for $15 anywhere in Comal County, we also offer select local pick-up
What size are 911 Address Signs?
Depending on the number of digits in your address, signs range from 6″x12″ up to 6″x24″, but we can produce custom address sign sizes if needed.
Are these Double Sided Reflective Address Sign?
Yes, all 911 Address Signs are double sided.
Do you offer Local Pickup in Comal County for 911 Address signs?
Yes, we currently offer FREE local Pickup once a week at C.R.R.C as we are there coaching youth sports and can meet for pickup before our practice.
Do you offer Delivery inside Comal County?
Yes, we currently offer delivery and installation twice a month, please note there is a charge of $23.95 for delivery and installation.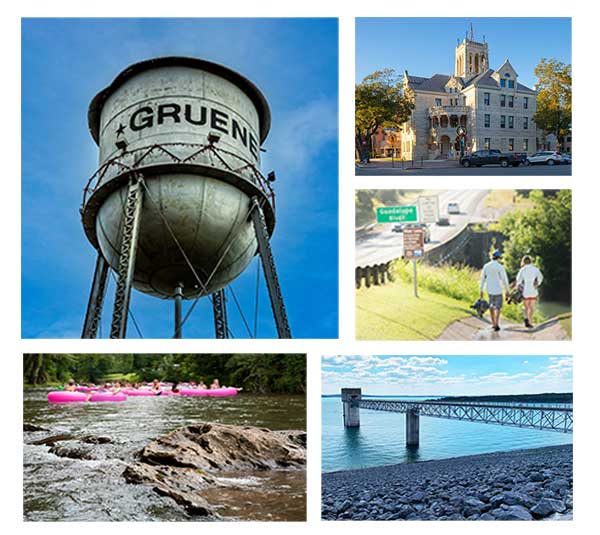 Address Signs – Comal County, Texas
We provide 911 Address Signs for Comal County and surrounding areas. Big Tex Banners and Flags has been operating in the Comal County area since 2008, we service clients such as White Water Amphitheater as well as Hill Country Resort. In an effort to further contribute to our community, a portion of each sale will benefit local sports. We are currently donating a portion of each 911 Address Sign to Canyon Lake Little League.
Fixed Income Assistance
Because these signs provide a significant benefit in an emergency situation We can offer assistance to anyone on a fixed income that would benefit from a 911 Address sign. You can contact us here and we will consider your request and contact you.
FREE 911 Address Signs
We offer a monthly drawing for a free 911 Address Sign. Submit your entry here. Please note this is only for residents of Comal County.
911 Address Signs Local Pickup and Delivery Available!
Comal County Address Sign Pick up Options
We offer FREE local pickup at the Rec Center at C.R.R.C. or Rebecca Creek/Cranes Mill Rd area.
Choose between Shipping, Local Pickup, or Delivery when checking out.
Choose Local pickup at checkout, we will call you to set up pickup usually within an hour after ordering during regular hours.
Usually Ready to Pick Up Next Day!
Comal County Address Sign Delivery Options
We now offer a delivery and installation option for 911 Address Signs in the Comal County area. There are 2 days each month we will scheduling delivery. Please note there is a charge of $23.95 for delivery and installation.
Choose between Shipping, Local Pickup, or Delivery when checking out.
NEXT Delivery SLOT – Thursday February 23rd 9:00am – 4:30pm
PLEASE NOTE – There are only 10 spots available per Delivery Date.
911 Address Sign Options
Mounting and Installation Options
You can currently order your 911 Address sign with a pole / stake for hammering into the ground. You can also just order the sign to mount on a post, mailbox, or post. We will adding more options in the coming weeks. Please note that some mounting options like the mailbox option may require you to purchase 2 signs so it is seen from either side of traffic.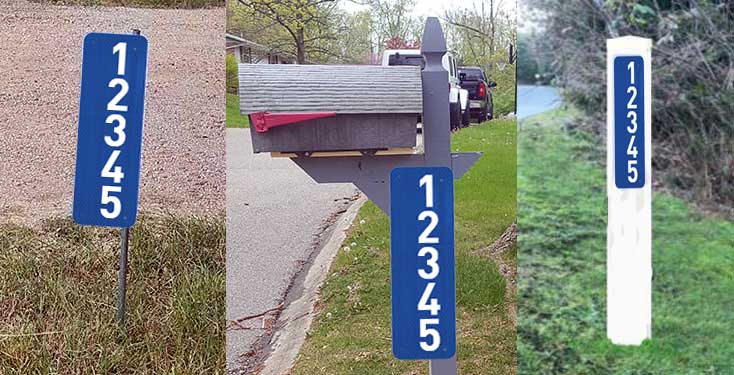 Reflective Sign Color Options
Big Tex Banners offers 3 different colors for your 911 Address Signs. Choose between Green Reflective Address Sign, Blue Reflective Address Sign, or Brown Reflective Address Sign. All colors are highly visible at night when light hits them.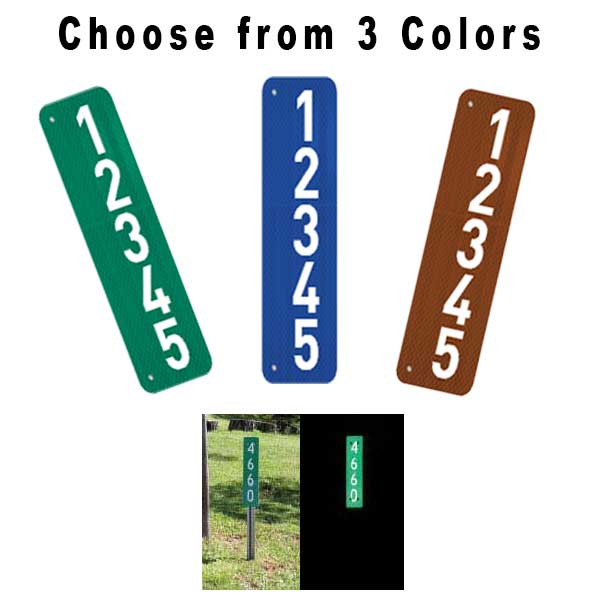 Comal County 911 Address Sign Delivery and Installation Options
Big Tex Banners and Flags offers several options for delivery and installation of 911 Address signs in Comal County. If you have any questions about any of the options below, feel free to contact us here or call 888-849-2749 during our office hours of 9-4 pm M – F
Flat Rate Shipping
We can ship your 911 Address Sign to any address in Comal County for a flat rate of $15. Production is currently 2-3, so you will receive your address sign in 4-5 days. In most cases FedEx will be used, but carrier may differ from time to time.