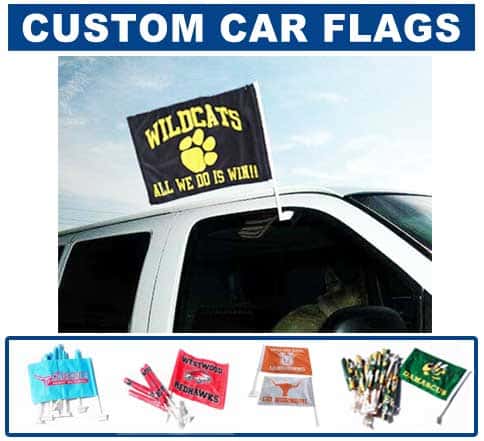 ---
Custom Car Flags Design Service
---
12″ X 18″ Premium Car Window Flags
Use our Online Flag Designer or let us design it free of charge!
Wholesale Flag pricing, buy more save more!
Quick Turnaround and Delivery!
Double Sided Car Flags
Free Digital Proof – You will receive a proof of your design before it goes into production. You can approve or request changes.
---
Custom Car Flag Quantity Discounts are Applied in Cart
10 – 24 Car Flags – $13.90 per Flag / 25 – 49 Car Flags – $7.69 per Flag / 50 – 99 Car Flags – $7.35 per Flag / 100 – 149 Car Flags – $7.10 per Flag
150 – 199 Car Flags – $6.75 per Flag / 200 – 299 Car Flags – $6.70 per Flag / 300 – 499 Car Flags – $6.65 per Flag /
500 – 749 Car Flags – $5.99 per Flag / 750 – 1099 Car Flags – $5.90 per Flag /1100 – 4000 Car Flags – $5.85 per Flag
For Multiple Designs, add each design to cart with quantity desired, discounts are applied in the cart.
Please Note – Maximum of 5 Designs per order. Please contact us if you need more than 5 designs.
Downloadable Design Templates
Download our custom car window flag template and design on your Custom Car Flags on you computer upload your design when ready to check out using design service.
Car Flag Template-AI (739 downloads)
Car Flag Template-pdf (629 downloads)
---
---
FAQ and Face Mask Design Service Help
Will I see a proof of my Custom Car Flag design?
Yes, we will send you a proof with a design put together with the information you sent.
After I receive the proof can I ask for changes?
You can continue to request changes until we get your design where you want it.
If for any reason a design I like is not achieved, can I get a refund?
Yes, if we are unable to put together a design you like, we will give you a full refund.
Are there any set up fees?
We do not charge any set up or design fees.
How much is shipping?
All shipping cost are included in the price per Car Window Flag.
I am purchasing for a tax exempt organization, how do I remove sales tax at checkout?
If you are being charged sales tax after you enter the shipping address, please contact us and we will supply a tax exempt code after you email us your tax exempt certificate or number.
My artwork is not uploading what can I do?
Your artwork may be too big or unsupported. For security reasons, some file types are not allowed to be uploaded to our site. If your artwork does not upload, please contact us. We will provide alternatives for you to send us your artwork.