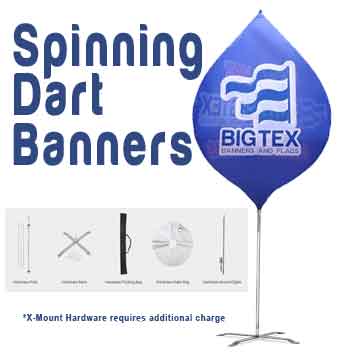 ---
Custom Spinning Dart Banners
Spinning Dart Banner is an appealing and eye-catching display option whose uniqueness lies in it's unique shape and the fact that it spins in the wind. It is an innovative branding and attention-grabbing banner that imitates the look of an in-flight spinning dart that will stand out in any crowd and ensures high visibility in any environment.
---
Pay Later Program
Big Tex Banners offers a Design Now – Pay Later Option

Pick Your Product and Submit A Design or Design Request.
Free Digital Proof via email of the design based on your requirements.
Request Design Changes or Approve.
If you asked for changes, design rep will make changes and send back for review.
If you approve the design, choose payment method.
Your order goes into production.
Color matching available with PMS Color Matching
Giving you piece of mind before your order goes into production.
Get your design set and fine-tuned before you have to pay!