Do you want to stand out from the crowd? Make sure that your business, group, or message gets noticed with teardrop flags and banners! These attention-catching displays are an ideal way to grab the attention of your target audience. Teardrop Banners come in a variety of sizes, including some options over 15 foot in height. In addition, you can also find display options suitable for indoors and out. But these flags also act as incredibly resilient outdoor advertising. Read on to learn more about how teardrop flags and banners can supercharge your next advertising campaign!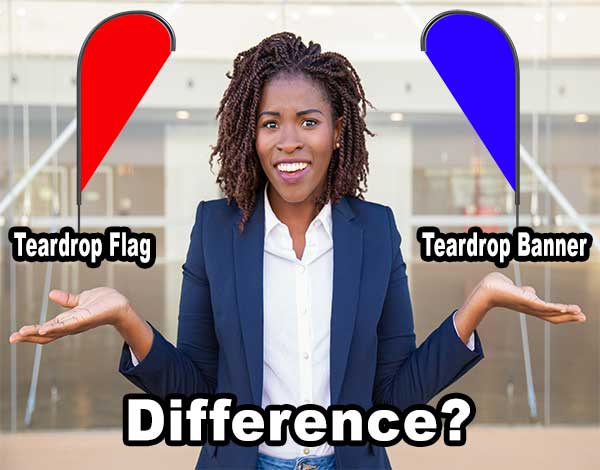 Teardrop Banners vs Teardrop Flags, is there a difference?
There may be some confusion that comes from all the different names that people call Teardrop Banners. But, there is no right name to use, as long as you use the term "Teardrop" in the name. This is because of the unique tear shape. There are no other flag banners that have the tear shape. So a Teardrop Flag can be a Teardrop Banner, Teardrop Sign or even the term a tear banner works. The confusion probably comes from the fact that a flag and a banner can be the same thing. But, in some locations, especially in the United States, a banner is a vinyl sign.
Teardrop Banner Flags vs a Feather Flag
Some incorrectly refer to Teardrop Banner Flags as Feather Flags, Blade Flags, or even Swooper Flags. It only takes a quick comparison to see that the shapes of these two banner flags are not similar. In fact, they are quite opposite of each other as far as shape is concerned. The teardrop banners are wider than a Blade Flag. Calling a teardrop banner flag a Feather Flag will likely bog down your search for a tear banner. As a result, your search could return incorrect results.
Tear Drop Flag Banner or Teardrop
Another variation of the Teardrop Banner name is separating the term teardrop into two words like Tear Drop Flag Banner. This is acceptable as it still contains the word tear. Including the word "Tear" correctly describes the unique shape of the tear drop flag banner. So whether you use Teardrop Flags or Tear Drop Flags, know that either way can be viewed as correct.
Teardrop Signs
Teardrop Signs offer a lot of value when compared to other advertising methods like newspapers and radio. As a result, they are extremely cost-effective for smaller businesses trying to compete with larger competitors. Depending on the area where your tear banner is set up, the cost can be as low as pennies a day. Teardrop Signs can reach hundreds, if not thousands of prospects cheap.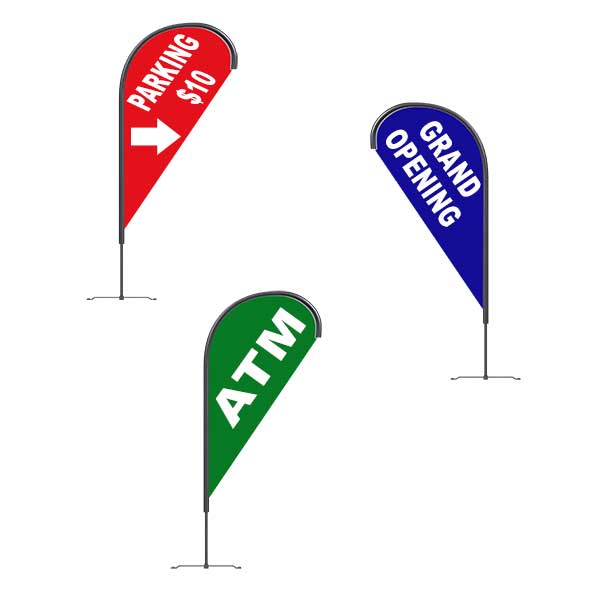 Teardrop Sign Flag Uses
There are many uses for a Teardrop Sign Flag. But if we focus on the top three we see how powerful a marketing tool tear banners can be.
Teardrop flags are more than just a fancy banners – they have plenty of practical uses too! You can use them to direct people towards your business or mark special areas like parking lots and event entrances. They're the perfect way to draw attention (and customers!) in an eye-catching manner.
Teardrop flags are more than just a fancy banners – they have plenty of practical uses too! You can use them to direct people towards your business or mark special areas like parking lots and event entrances. They're the perfect way to draw attention (and customers!) in an eye-catching manner.
Advertise indoors and promote store specials with Teardrop Sign Flags. Because of the smaller and wider shape of teardrop signs they are better suited for indoor advertising in a retail environment. The wider display area allows for more detailed information to be displayed.
There are really no limits as you can customize a Teardrop Flag to fit almost any purpose.
There are many more benefits that come with using Teardrop Sign Flags, but one thing is for sure if you are needing to draw attention, Teardrop Flags deliver!
Teardrop Banner Signs Work Both Indoors and Out
Another fantastic feature of Teardrop Banner Signs is the fact that they work for both indoor and outdoor advertising. Teardrop banner printing involves printing on polyester with U.V. Inks, Teardrop Banner Signs are built to stand up to the elements and deliver your message. You will be able to advertise at trade shows and conferences as well as outdoors or in front of your business.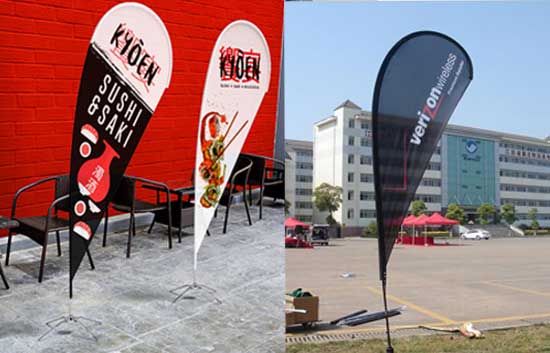 Getting Teardrop Flags Cheap
When it comes to advertising, getting the most bang for your buck is essential. As mentioned earlier, Teardrop flags and banners are an incredibly cost-effective way to get your message out. But, you need to shop at several dealers to get the best price. First, If you need more than a single teardrop flag shop for discounts. You will want to find a retailer that offers wholesale teardrop flag pricing. Some retailers will start giving a discount with a quantity as low as two. This allows you to get teardrop flags cheap even with lower quantities.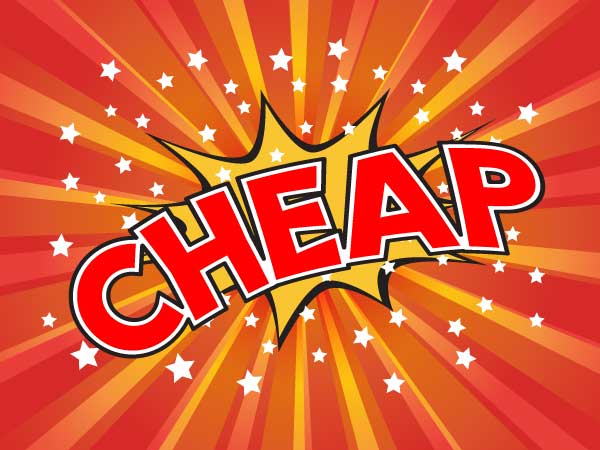 Beware of Cheap Teardrop Banners with High Shipping
Another tip for getting the best deal is to watch out for dealers that offer cheap teardrop banners with high shipping. Some dealers will hit you with high shipping charges at checkout. True, the shipping cost of teardrop flags can be high due to the poles and hardware. But, some retailers will pad it to advertise low pricing. So you should be aware of all costs when looking for cheap teardrop banners.
Shopping for "Teardrop Flags Near Me"
Finally, the last tip for getting teardrop banners cheap. Do not rely solely on shopping for local teardrop flags near you. While you may save money on shipping charges, most local teardrop flag dealers will charge more than online suppliers. The reason for this is local tear banner dealers have to pay for a retail location. This cost can be high and dealers naturally pass this on to customers.
Teardrop Banner Conclusion:
No matter what you call them, Teardrop Banners can promote your business at a fraction of the cost of other advertising methods like print or radio.
You should not confuse a Teardrop Banner with a Feather Banner. This is because a Teardrop Flag has a unique shape like a tear. Alternatively, feather flags are narrower in shape, and resemble a feather.
Try to find a dealer that offers quantity discounts for purchasing multiple Teardrop signs.
Teardrop flags are a cost-effective method that can be used to draw attention to a retail location. Teardrop Signs can also direct people toward a business, or promote store specials.


In all, Teardrop banners offer a lot of flexibility with multiple sizes and display options. Be sure to consider Tear Drop Banners the next time you need cheap and effective advertising.