Feather Flags Right For Your Business?
When looking for ways to promote your business, or a special event, feather banners may be what you looking for. These tall advertising flags are popular and inexpensive. Whether you call them feather banners, flag banners, blade flags, Beach Flags or banner flags, they are very effective. We put together a top ten list that highlights how these advertising flags can help. Here are Ten Reasons to Use Feather Flags.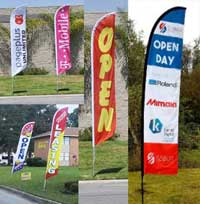 1) Feather Banners effectively draw attention to your business or event-
While this would seem to be a no brainer, this is the number one reason for using banner flags. Being number one on the list is the best way to emphasize how effective these flags are at drawing attention. These tall flags usually sport bright colors, making it hard to not take notice of them as you are passing by.

2) Flag Banners Create a Festive atmosphere, and give the impression that something special is happening-
Throughout history people have used flags for celebrations and special events. Banner flags in front of your business or event can create a festive atmosphere. It makes people feel that something "special" is happening, and peaks curiosity.

3) Feather Banners are Fully Customizable-
With today's digital printing, it has become easier than ever to customize flag banners. Sublimation printing, offers more flexibility than ever as it pertains to design. You can use font effects, detailed images and even photos to customize your blade flag. They also come in a variety of sizes to fit your needs.

4) Feather Flags Enhance and increase visibility of your permanent onsite signage-
Onsite Signage for your business can be very costly but necessary expense. Without effective and visible signage it can be hard for a business to draw people in. Feather Flags can increase the effectiveness of your current onsite signage. As we mentioned they are great for attracting the attention of potential customers. This also puts more eyes on the signage on your building or message boards.

5) Feather Banners are Windless–
Due to the design of the Feather Flag the pole holds the top of the flag out. This means that no wind is necessary for flag to display its design, as is the case with some advertising flags. This allows you to make use of more of the top section of the flag for design. This also makes them very well suited for indoor use as well.

6) Blade Flags Require Minimal Space, Easy to Assemble, and Portable-
Other than their height, which most consider a plus, banner flags have a small footprint. This means they only need a small amount of square footage for display. Feather Flags use Fiberglass, and Aluminum poles that are lightweight. This makes them easy to transport and assemble.

7) Banner Flagss Are Extremely Cost Effective-
As the popularity of banner flags grow, so does the value they provide as an advertising tool. When using proper care and maintenance, the cost per day for a 24/7 sales tool is pennies a day. Feather Banners provide one of the highest returns on your advertising dollar.

8) Wide Variety Of Pre-Printed Feather Flags-
No Matter what type of business you have, if it relies on walk-in traffic there is a feather flag for your business. The categories available cover a wide range of business types. Real Estate, Automotive, Food, and Phone providers are some of the many types available. These flags can represent well-known name brands such as Dominoes Pizza, Cricket, and 7-11. There are a variety of general purpose flags as well like OPEN, GRAND OPENING, and WELCOME. These advertising flags are printed in large numbers and are much cheaper than a Custom Feather Flags. Some people choose to display both custom and stock flags. This stretches their advertising dollar while creating an eye-catching display.

9) Custom Flags Create Brand Awareness –
Creating Brand Awareness is important for your business. You do this by making your business stand out so people associate it with a particular product or service. This way prospects remember your company when they are ready to buy. Custom Flags featuring your colors and logo keep your company in front of your market. When they are ready to buy you are the company that comes to mind.

10) Beach Flags Can Be Make Your Next Sale or Promotion a Huge Success –
While a lot of businesses keep their flags displayed every day, you can use another approach. This strategy involves using them only when promoting a sale or special event. This works well because they stand out even more due to the fact it is something new to passing traffic. This strategy works well where local regulations limit advertising flag use. This also prolongs the life of the flags due to the limited exposure to wind and sun. There is a variety of pre-printed feather flags that advertise specials and sales. These flags work well with this strategy.

So as you can see there are more than just a few reasons business owner should consider using Feather Banners for promotion. Whether you choose custom or pre-printed feather flags, you will find they offer one of the best values available when looking to promote your business or service. If you would like to share a reason not listed or would like to share how banner flags have helped your business please comment below.