Vinyl Banners offer Convenience
One of the most widely used forms of signage, Vinyl Banners are portable, easy to install and extremely cost efficient. Banners signs are used by both the business community as well as the general public. The public uses Custom Banners for wishing someone a happy birthday, welcoming a hero home or even asking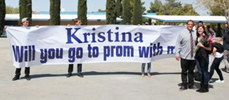 someone to the prom. While businesses large and small find them effective for announcing a grand opening, spotlighting a special, or just about any other time they need a fast and inexpensive way to relay a message to the public.
Size Versatility – Large or Small
Another example of the versatility Vinyl Banners offer includes the broad range of sizes available. Vinyl Banners can be as small as you want, but most dealers will have a minimum size they will produce. As far as how large you can make a banner there are no limitations there as well, as long as you have the area to assemble one, you could create really large Vinyl Banners by joining them with seams. As far as seamless sizes it will vary by dealer. Some printers can offer Banners up to a 16-foot height, with a length of 150 foot without a seam.
Mounting Versatility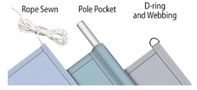 The most common option for hanging a banner is Grommets, which are usually 3/8" Diameter Brass eyelets spaced about every two feet. Additional options for mounting a banner sign include D-rings, Pole Pockets, Velcro, or have rope sewn into the hem.
Hard To Beat Value of Custom Banners
Vinyl Banner Signs are one of the most cost-effective ways for a business to advertise. Two of the top reasons for their popularity is the cost and durability. The durability not only comes from the PVC material, but a polyester mesh layer called scrim. This scrim prevents tearing and reduces stretching. When compared to other forms of advertising, banners provide a very high return on your advertising dollar. Banners work well to promote a particular product, special, or event and can be a low-cost option that works 24/7 with existing signage to bring more attention to a business.
Internet, Print Technology and Competition Bring Prices Way Down To Increase Custom Banner Value
Not even ten years ago Custom Vinyl Banner prices were considerably higher than they are today. In some cases, you could pay as much as $10.00 a square foot for a custom banner. Today you can find banner pricing as low as $1.99 a square foot, and design it online. So what would cause the price of Vinyl Banners to fall as much as 85% in less than ten years? The simple answer is technology, used to be that the most common method for creating a Custom Banners was cutting graphics and lettering out of adhesive colored vinyl then applying transfer paper then applying the papered vinyl lettering and graphics to a banner blank. This process would have to be done for each color if the design had outlined lettering or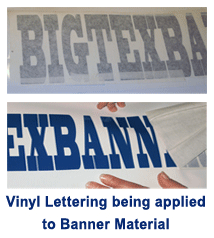 graphics with multiple colors. From design to finished banner it could be quite labor intensive when compared to the ease of printing a custom banner with a wide format printer. Another reason for the drop in price can be attributed to consumer confidence in shopping on the internet. As more and more people grow confident in ordering items online, it has created a very competitive environment which also drives the price down. The whole process of ordering a custom vinyl banner has been simplified to the point where you can design and order a custom banner without leaving your desk, while only paying a fraction of what it would have cost you ten years ago.
Large Variety Of Custom Banner Options
When most people think of a vinyl Banner, they envision your standard rectangular banner with grommets. When in fact, there are several different types of Banners with a variety of purposes and applications. Below we will briefly touch on the various types of banners but will expand on them later with more detailed articles focused on each type.
Double Sided Vinyl Banners
For double sided Banners a heavyweight banner material all the up to 24 ounces with a block out layer that is printable on both sides. Another option that is becoming common is the practice of printing two 13 oz. banners and sewing or welding them together back to back.
Street Banners
The heavier 16 -18-ounce banner materials with block out can also be used for street banners as well. The thicker material and block out help with sunlight or lighting that may interfere with opacity of the banner.

Street Pole Banners

Displaying a Vinyl Banner on a street pole requires specialized hardware for mounting the banner to the pole. To accommodate this hardware the banner needs to have a pole pocket at top and bottom. This hardware provides a compact and versatile way to display a custom banner without having two points to attach and mount the banner.
Mesh Banners
Where the wind may be a concern, Mesh Banners are an option. Constructed of a vinyl coated scrim, a Mesh Banner allows air flow while still displaying your text and graphics. Depending on the types of mesh used, Mesh Banners can offer up to 70% air flow. Rather than cut wind slits in a regular vinyl banner, you should consider using a Mesh Banner instead.
Backlit banners or Flex Face Banners

If you need your signage to be seen at night, Backlit or Flex Face Banners are Vinyl banners that are designed to be used with a light box that illuminates the design printed on them for night time viewing.
Banner Stand
Popular at trade shows and conventions, the banner stand offers a compact and lightweight option to showcase your product or service professionally. There is a large variety of sizes available and when not in use can be retracted and conveniently stored in the aluminum casing and transported in a carrying case.

When you look at all Vinyl Banners offer, it is easy to see why they are one of the most popular forms of outdoor advertising. When compared to other forms of advertising their versatility, value and the variety of options make them hard to beat.